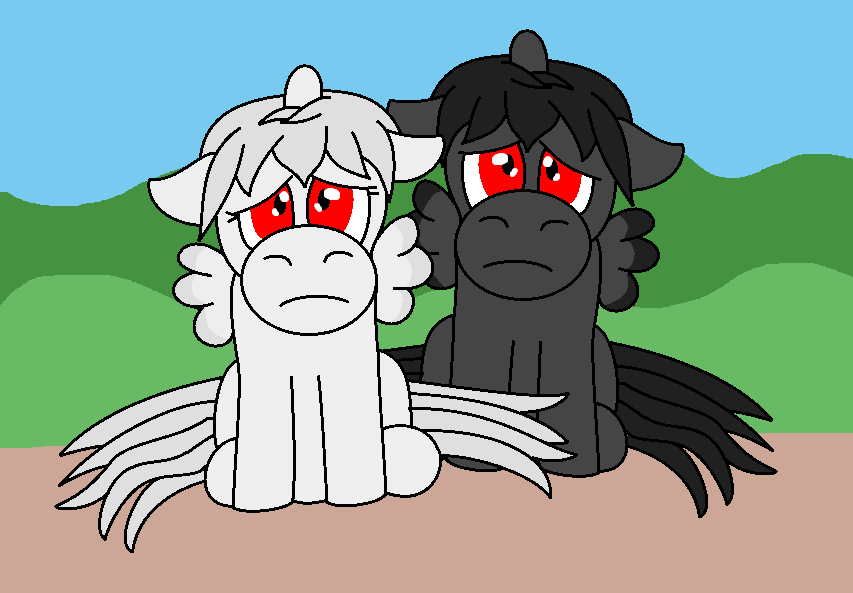 a young breeder heard a sharp knock to her door. she made her way over. already annoyed on how one of her stallions was causing her some problem.
she threw the door open, "who's-" she pauses as she saw nobody there. she looked down when she heard a female voice, "pwease miss hooman can fwuffies hab housie?"
when she look down to her shock there was a pair of alicorn.
an pure white with red eyes mare, possible to be an albino and then a pure black with red eyes stallion, was behind her. what shock her the most was their tails. instead of one, they were born with multiple tails. she soon found out to be nine on each fluffies
she was in stun shock at her luck. she smiled then nodded, "yes, yes, do come in, you can live here"
both smiled happily and made their way in. she couldn't believe her luck. . .
a week later
she sat at her table annoyed and upset. the new pair were well behavior and eat way last then the others but no matter with stallion she stuck with the mare. she didn't get pregnant. the vet visit told her she wasn't fixed and even with testing she wasn't Infertility.
the stallion was the same, no matter the mare he was place with, none got pregnant. then one of the female begin screech in pain when he effie them. even when they never had a problem before. she soon found out that the little shit had retractable lumps at causes pain to the mare cause "bwackie was bowed" he was punished for it but he didn't stop it just did it less.
and the worst thing wa- "can blackie go see snowie now?" she look over to see the black alicorn who somehow again got outside his pin and ask her if he could see the white mare. this was the worst behaviorist. they both were pretty much glue to each other. one or the other sneaking to the other in just to be around. she wants to rid her self of them, "yeah sure whatever" he took off throw the pin the mare was kept in with a smile
she threw the stallion away during his bad effie behavior but found that he was back inside the next day. at freak her out. the only good thing about the pair was at both let the stallions take turns effie them.
she reminders pillowing them at some point but their limps were back the next day. these pair was really freaking her out at this point. she soon set up a post planning on selling them just to rid herself of them. . .