I mean 50 cents is a great deal for an abuser looking for a fun new toy.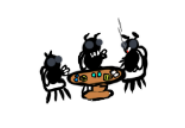 Do they get also come with the fluffy? If so, you gots a deal.
I'll only give pain and death. Nothing more.
50 cents?
This smartass is rapping his words.
I want to abuse so badly. I wish fluffies were real.
"Stress balls" are important for maintaining some semblance of mental stability in this fucked up community. Gimme it…
I would like to purchase him
I'd pay an extra 50 cents to have these fellas and no smarty!