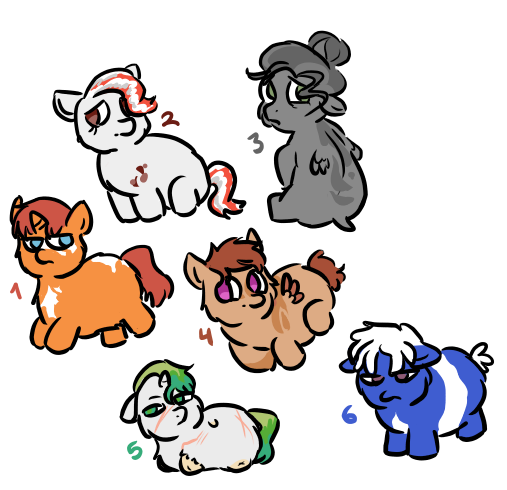 Seen these "adoptable" things around, thought I'd give 'em a try. If people like it I might do more.
RULES are as follows:
Once adopted, this fluffy character is yours to do with as you please. Abuse, hugbox, whatever. Post pics or writing, whatever. (To adopt, just say ya want 'em in the comments)
Just don't steal 'em, once somebody has "adopted" the character as their own it's theirs to do with as they please.
That's all lol. Go wild.
Fluffy #1 is a unicorn male. His name is "Tangerine", but after adoption, sheltergoers are free to change names. He was found on the street with his "speshuw fwen" and "babbehs". However, the mate was a sufferer of smarty syndrome, and all offspring were of poor color. All were dispatched due to a predicted inability to find adopters.
Fluffy #2 is a breeder surrender. Apparently, she was a poor mother, and has thus been spayed. Please read our wan babbehs care guide if you are concerned about her post-spay distress. Her name is currently "Snowshoe".
Fluffy #3 was rescued from a hoarding situation with hundreds of fluffies. She is extremely shy, so please don't worry if she refers to you as a "munstah" - continued bonding should fix this easily. She is of the special bald tail variety, and her name is currently "Mimi".
Fluffy #4 was a family surrender. Sadly, the owner of the fluffy passed away and the family could not continue caring for the biotoy. His name is "Woody". His temperament is great, but he does not do well with unspayed females.
Fluffy #5 is a factory rescue, found in a dumpster. It seems she was used as an immobile breeder. She is an alicorn, but likely cannot produce alicorn offspring due to the situation she was found in. Please read our pillowfluff care guide for further information on how to properly care for this fluffy, who is currently named "Seafoam".
Fluffy #6 is an earthie male. He was found in a feral herd and surrendered to the shelter by the woman who found them. He is neutered, and currently named "Cloud". He seems to be a mix of many breeds, resulting in an interesting mane texture. However, he is a "toughie" and thus special care is required to avoid the development of smarty syndrome.