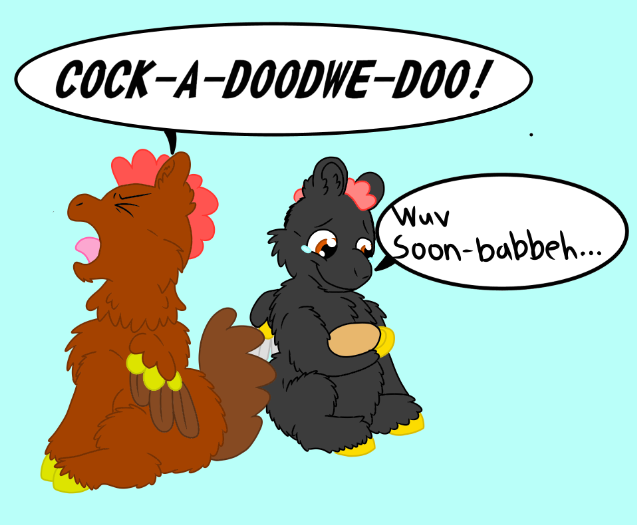 The ones pictured above are based on 2 chicken breeds. The rooster (the one crowing) is based off of a Rhode Island Red. The hen (The one holding an egg) is based off of a Barred Rock.
Chicken-based pegasi are very good with farmers and chicken owners. They tend to be the leader of any chicken flock they live with, and act like any normal chicken. With the exception that they're able to talk, of course.
Chicken pegasi are like normal chickens: Love food to the point where they'll do anything for it, have a very important pecking order, and the hens lay eggs. When a hen is not broody, she'll let you collect her egg like it doesn't concern her. But when she does go broody: Look out. She'll become an angry, bitchy, loud fluffy that is not going to let you take her egg without a fight. She'll call any eggs nestled under her her "Soon-babbehs" and coo to them all the time.
The average adult chicken pegasus will be about the size of a Brahma hen (This is a large chicken breed). This fluffy is already a sub-breed of the pegasus, but it has many color variations, almost as many variations as there are real chicken breeds.
The male pegasi tend to be horndogs, and chase the females a lot in the attempt to mate (This happens with real-life chickens constantly). They also work as good alarm clock for farmers, since they crow at 4 am every morning on instinct.