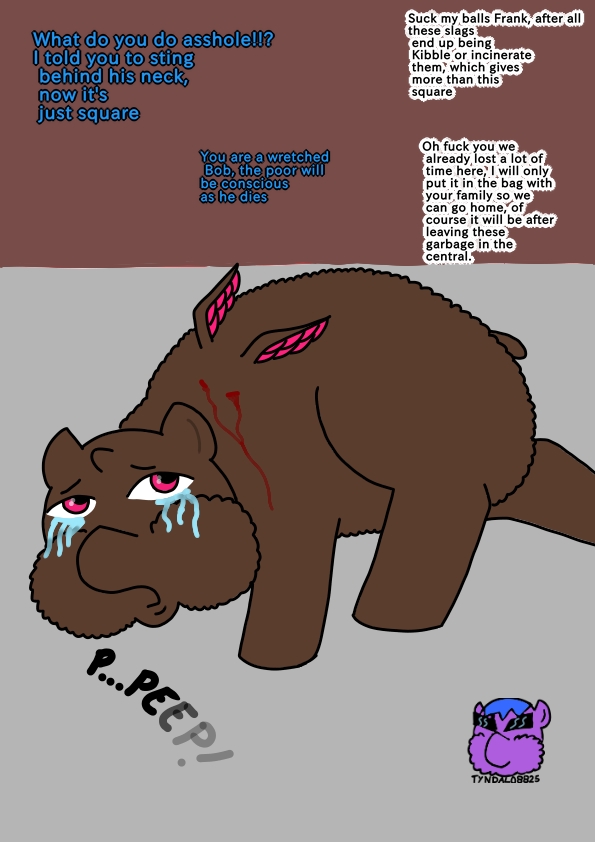 I do not think if to make a third part in which the foal is burned or turned into Kibble
Which would be more fun for you to draw?
partlyI think it would be more fun for him to become Kibble although the pain of burning himself without being able to move…lol I'm still undecided
1 good art I love it…
2 are you native English speaker, if English is not your first language I'm fine with the broken English.
Agreed
It's a tough choice
Thanks

Sorry for my broken english, I understand a bit of English and writing so I use google translate

I hope soon to be able to take English classes again, I know you don't say it with bad intentions but I want to be able to communicate better in the future
No worries man
When you post in spanish, I do the same thing so I can understand what you wrote

Ah ok good to know, thank you for informing.
I'm sorry you've had to learn English. Its a bit of a mess, especially when written.
So was that poker supposed to be like how they shock pigs in slaughter houses?
Save him, Rosita! Use your slut magic!
what about both? Burned to remove the fur and thrown into a triturator while burning alive or with bad burns for the kibble process
But he uses his powers for good. He could somehow enfie a way to save this fluffy.
It would be a very rare cameo but could make an alternative ending to the official
I LOVE your broken English. Reminds me of the OG fluffy masters like Artist-Kun and Mwike
What exactly did it do to them? Did it paralyze them from the neck down?