Ugh the colors. I feel extra bad for this little one. Especially with that tail hugging pose.
Look at you, you're not even a poopie Fluffy and STILL nobody wanted you. Must be because you were a little crybaby bitch.
If ONLY you had been braver, maybe, just maybe, you'd have found a forever home.
Ah well, what might have been.
Aw man, I wanna take them home )': Poor thing
Well, everyone was feeling sorry for the poopies, & N/A had the same colours as his Mummah, so he was assumed to be a bestes babbeh…
If only there would be an Abuser customer!
Well, you can always go dumpster diving in the biowaste bin if you really want him that much.
Oh, don't worry.
Minimum wage workers will probably forget about you for weeks.
Idea for a story. Fluff-mart Babbeh watches his brothers and sisters go to good homes, but nobody picks him because they assume he's a bestesh due to his colours, when in fact his mother raised him to be kind and friendly.
He spends his last days wondering why nobody would ever love a good Fluffy.
I thought the colors are okay myself
~Looks left and right to verify security camera placement and plugs the vent holes before proceeding to open door only to stick ass inside and fart before closing the door and walking away~
Man, that "My name is N/A" tag is brutal.
I adopt this cute little fluffy



I need help cleaning the house.
While I wash the windows he could clean the floor.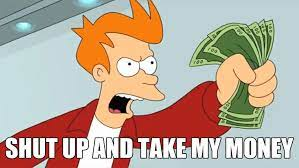 Adorable to behold. Sad af.
You do fluff pretty good I must admit. The perspective on its right hind leggie is a little off. I might suggest a similar posing for it in the future. But otherwise, and all together, this is very well done.
Beholding the fandom's dichotomy that is the comments right now. Hugboxers already adopting it in their brain. Abusers laughing at its suffering. You got a talent for getting interaction.
Poor thing.
I'll gladly take that one home.
Time to take em out back and swing them by their tail into the pavement until they stop moving.
They probably didn't want to panic the rest of the family, might make them unadoptable… so they've been playing along, making him feel at home… but he's started to realize now what's happening?
The N/A nametag really shows how much his life mattered.

Why? That would, among other things, ruin the quality of the meat.