It's a sad life for meat farm fluffies… At lest they have Skettieland to comfort them before it ends…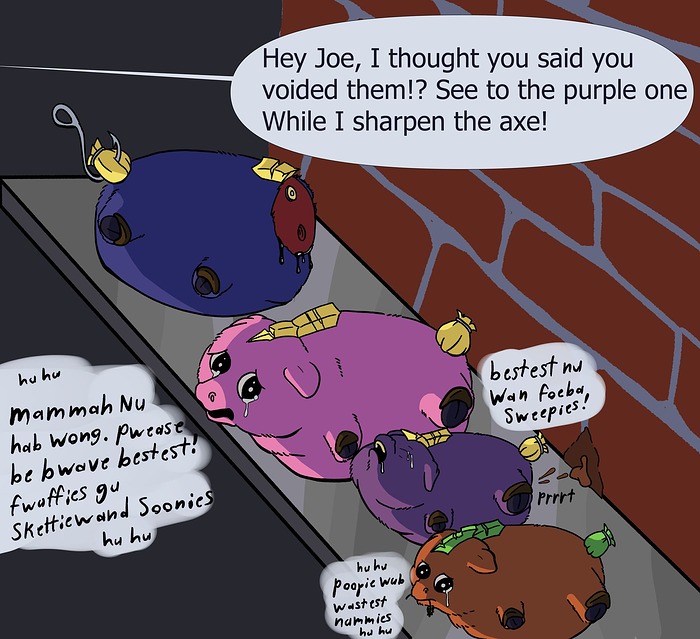 Nice. That's some heavy melodrama.
Tonight we dine in Skettiwand!
I know right? The axe is nice and sharp to it's super quick
Where milk flows in rivers and sketties rain from the skies
I mean it's that type of really heavy handed sadbox I like.
Mother and bestest need a few "botched" swings to really prolong their entrance into hell
The fluffmeat farm is always looking for help around autumn ;3
the way you drew their faces is heartbreaking, great job

Thank you! The faces are arguably the most important part of the whole thing. Without them the idea would fall flat :3
Don't be sad because you're about to lose your pathetic and otherwise worthless lives, little ones. Be happy that you had family, friends, a warm housie, and good nummies. And that you will be very tasty roasts soon.
I was waiting for you to pop up ;3 figured this would do nicely for your tastes… much like a cooked fluffy…
At least they die giving us sustenance.
Very nice of them to butcher old style. Bet it tastes great
Except who the hell eats fluffies? Gah. To paraphrase Jules:
"Fluffies might taste like pumpkin pie, but I wouldn't know, because I'd never eat the filthy motherfucker."
(Side note, that movie is like thirty years old. Jayzus.)
Depends i guess a lot of stories here with proper breed for meat
or used it as survival.
Which is a good idea for a future story too

"nu hab wong"




oml the faces are so full of hopelessness for skettiwand
Narrator: "The mummah and bestest babbeh did not go to Skettiland. They instead went to Sorryland due to their sinful ways, where everything is bad for fluffies and there are forever worstest ouchies."