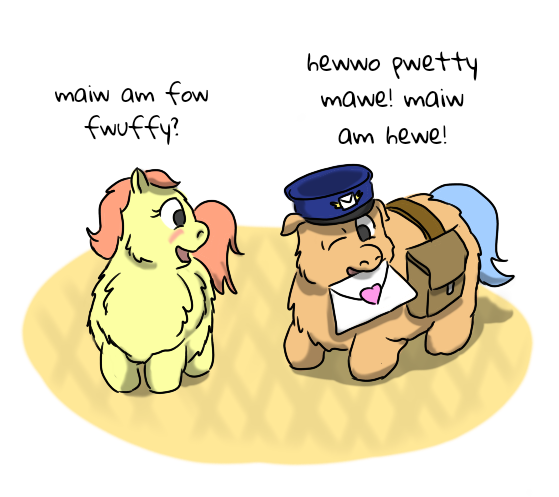 The postfwuffy aways wings two times! (exaggerated wink, exaggerated wink)
Loving this postal service pic, Carp!
Maiw fwuffie hab wawge package fo' 'ou as weww. 'ou wan' it in dah fwont, ow in dah weaw?
@Lothmar @WhalerTom This give sme some kinky ideas. I really should write that fluffy eroge hentai scenario idea, someday
Hasbio via FluffTV has an ulterior motive for this skit. ButI'm not sure what.
Oh please yes. That would be priceless.
You're welcome.
joke porn cliches are fun.
"Did fwuffy owdew a pizza? "
I need a show of fluffies doing porn prompts that go nowhere.
If this is fluffy porn they're doing a hell of a job actually remembering their lines.
I firmly believe that fluffies aren't able to act, which explains the nature of fluff tv as jangling keys with the occasional moral lesson.
That is more or less cannon at this point, only cannibal fluffies can lie for obvious reasons.
Now, what does the letter say?
Dear Special friend.
Love Special friend.
Your's forever,
Special friend.
i would love getting mail from him.
This is so cute! Fluffies make everything look adorably fun and sweet!