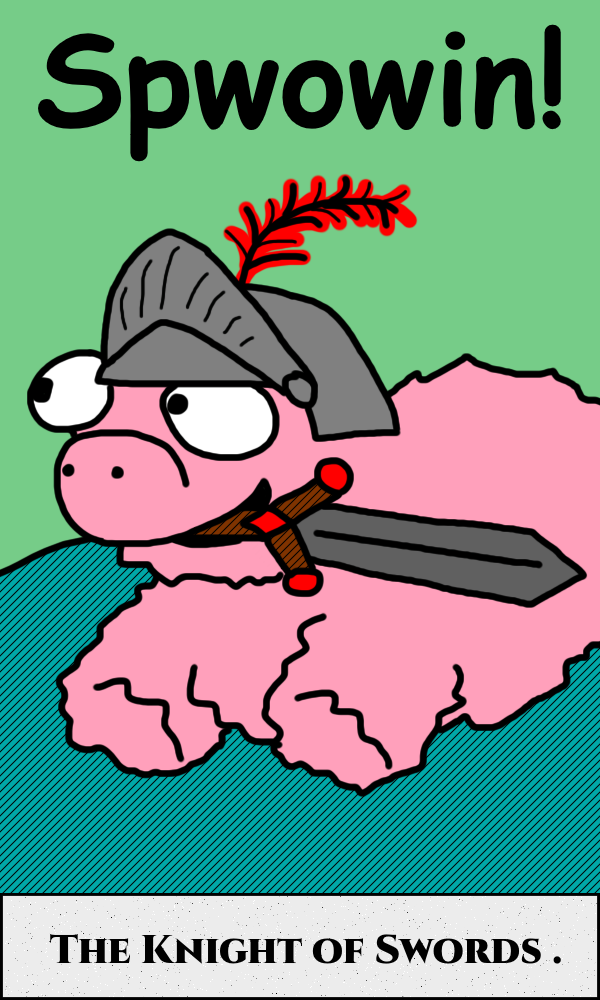 Only one this week, sowwy
"be wight back, fwuffy mus take back howy wand!"
Only one but an excellent card
Definitely an excellent card. Love the idea of a Fluffy Tarot deck. I collect Tarot decks and am really wish that they existed.
" 'Ou heathens weave this howy wand! Dis am smawty howy wand now! Howy pope sed 'ou dummy and that fwuffy hewd go on cwusade! 'Ou must weave Jewusalem NAO! Or else howy pope sed you must go foweba sweepies!"
The Knight of Swords
Upright: Ambition, opportunity, impulsive, brave, courageous, forward-thinking, arrival/departure, direct, honest, big changes, and going against the flow.
Reversed: Out of your league, left behind, sarcastic, running into danger, coward, going with the flow, danger.
This card literally embodies the idea of someone bull-headed and charging forward regardless of consequences. A powerful card that tells of a strong willed person going after what they want and not letting anyone stop them in their pursuit. The Upright embodies all the virtues of the card, but Reversed shows that such a mindset isn't without its flaws. Charging into something is ambition, but you can be too blind in your ambition to the point of no longer caring about who you must trample to reach your goal. Reversed Knight of Swords is a bully, someone who will not hesitate to hurt others to get what he wants, forceful in his approach, and blind to the feelings of those around him.