After foraging, they settle on their makeshift nest and the mare feed her young.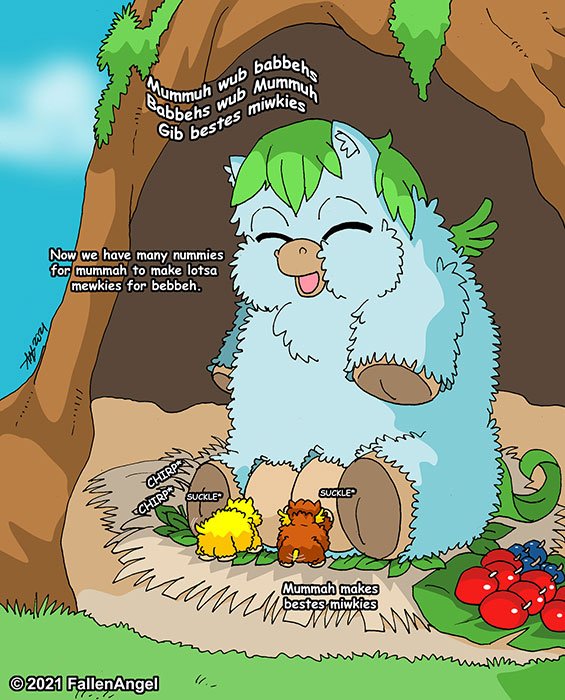 Insanely cute, I love it. Looking forward to seeing more from you.
Thank you, I hope you'll enjoy my future works.
Just looking at this makes me explosively worked up. My blood is boiling. Your art style is really, really good.
Im honored but you guys been good artists as well, I did normal arts and other genre, fluffy is something I wanna try doing something new.

I hope you'll enjoy my future works
one word, yes
I love how you draw fluffies! They look so cute!
Im glad you like it more to come.
Yes, I have to echo. I want to kick her so badly, that's how good this is, heheh. I love the little nest! Good work!

this made me happy after getting pissed at my debit card
Huh. Actually feeding the brown one.
Nice.
"not brown enough to be poopies"
Her brain, probably
I will not hide, quite funny series)
I love happy feral families.

@FallenAngel007 Noting that you were inspired by the McGonagall design of fluffies, I find this depiction really interesting. To my memory, McGonagall never depicted his fluffies breastfeeding. Also, its really different from how Marcusmaximus and Carpdime has depicted breastfeeding, like so:
Well its not only on McGonagall, the breastfeeding came from others like carpdime or even nekuchan as i said was observing the story and art before I join

Then a human see the foals grab them and start squeeze them to empty their bowels untill the foals dies return to the mare and the human walks away the end
Wow, what a brilliant ending. Are you a co-writer of this comic?