I would agree with your character here, that idiot in the cashier needs to have a smack in the head as he can just block it as if there are customers in there

I put it in because that's how I had co-workers once in an old job.

True experience eh, damn those type can be a damn headache just sit there like an idiot or focus more on their phone.
"I don't talk to murderers" didn't he fuck a feral mare
Whats up with the nipples?
@Thatmotherfluffer He is a gentleman of double standards, pointing his finger when he fucks mares clandestinely
@GarmonboziaFV hidden under the blouse

"You let it in, so you have to deal with it. Go get the Gallagher hammer."
I dont know what's going on there. Whats this about not talking to murderers? If she is, that seems like a good reason not to talk to her
Just imagine a white line down the center or that feral and go for the 3 pts!
ITS GOOD
Why is that cute spotted fluffy snake food? That's a good pattern.
Patterned or spotted fluffies make me think of the "Tulip breaking virus".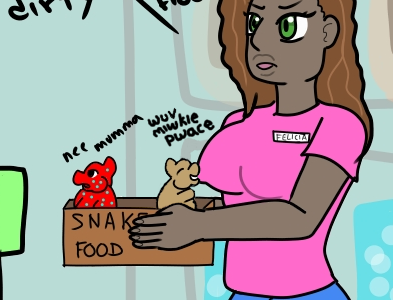 Ohoho there is a dead feral for shure and she must like the suckling
Because she is an abuser, you should try checking the creator @Tyndalo8825 gallery on its early post bout it.
In my books an abuser is better than a fluffy fucker.
Not every abuser is a murderer. Some enjoy abusing fluffies, there's those whom can take the abuse straight to the limit of the fluffies' mind and body. There's even those who just get a kick in certain Fluffy abuse, say only a Smarty abuser, and any abusive Fluffy abuser. Broad stroke general statements are not wise, cashier.
Fucking fluffies would be abuse though. Just like fucking a dog is Animal abuse
Seems like she kills them based on the guy caling her a murderer