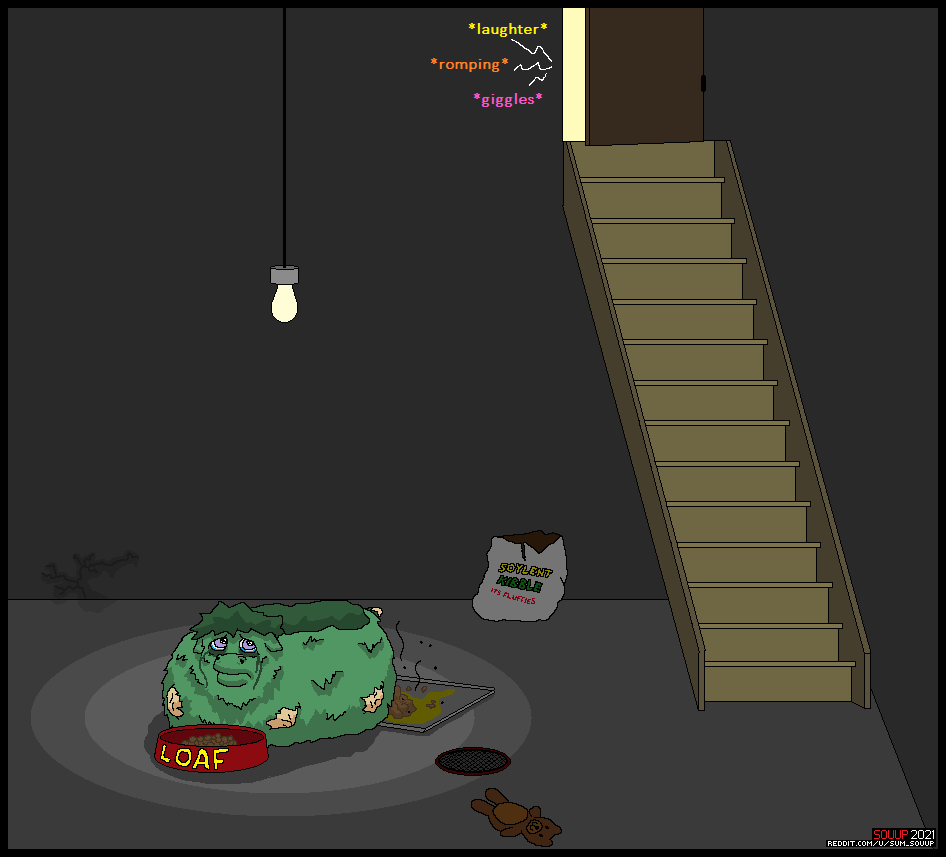 CLICK HERE
to view Full Resolution image.
That door that's opened just a little is a nice touch. Really adds to the fluffy's misery if it can hear the people having fun upstairs but it's not allowed to participate.
I can see it, for a 'birthday', getting an itchy blanket and a broken CRT TV playing a static-laced FluffTV feed to really give it the wowstest sadsies.
Welcome to the FC!
That face is amazeballs. So much expression on it's miserable mug.

Depends if that romping is Fluffies playing, or humans having Enfies.
I love pillow fluffs. They are so pathetic
For Easter, it should get a cheap radio that plays a static feed of RadioDisney and at night Albanian music plays crystal clear.
what a mister lazybones

is named Loaf
I am always happy for fluffies to be named after food items.
This reminds me so much of Bubblegum from Making a Monster
Me scrolling my instagram feed looking at what my friends are up to:
like the soylent bag of food in the corner
"Soylent Kibble" -

Lol,
"hey you OK down there Loaf? You know you can come up here and play with all the balls and blocks whenever you want, the doors open. You just have to walk up the stairs bud! And we have plenty of sketties left over, there so good!"
I can imagine upstairs the fluffies are playing huggie tag and chasing the ball. And daddy or mommy tell them 'Don't go down to Loaf. He needs to learn to come upstairs to play with his friends. If he doesn't come up here, that means he doesn't want to play with you!'
So mean, that Loaf.
Maybe he became a "smarty" and causes so much shit and turned him into a pillow as punishment and leaving him alone as such a horror thing to a fluffy.
That's some quality misery right there. Just enough sound coming through to really drive home all the fun he'll never get to participate in.

I'd like to imagine there's no interaction even when someone goes down to feed it.