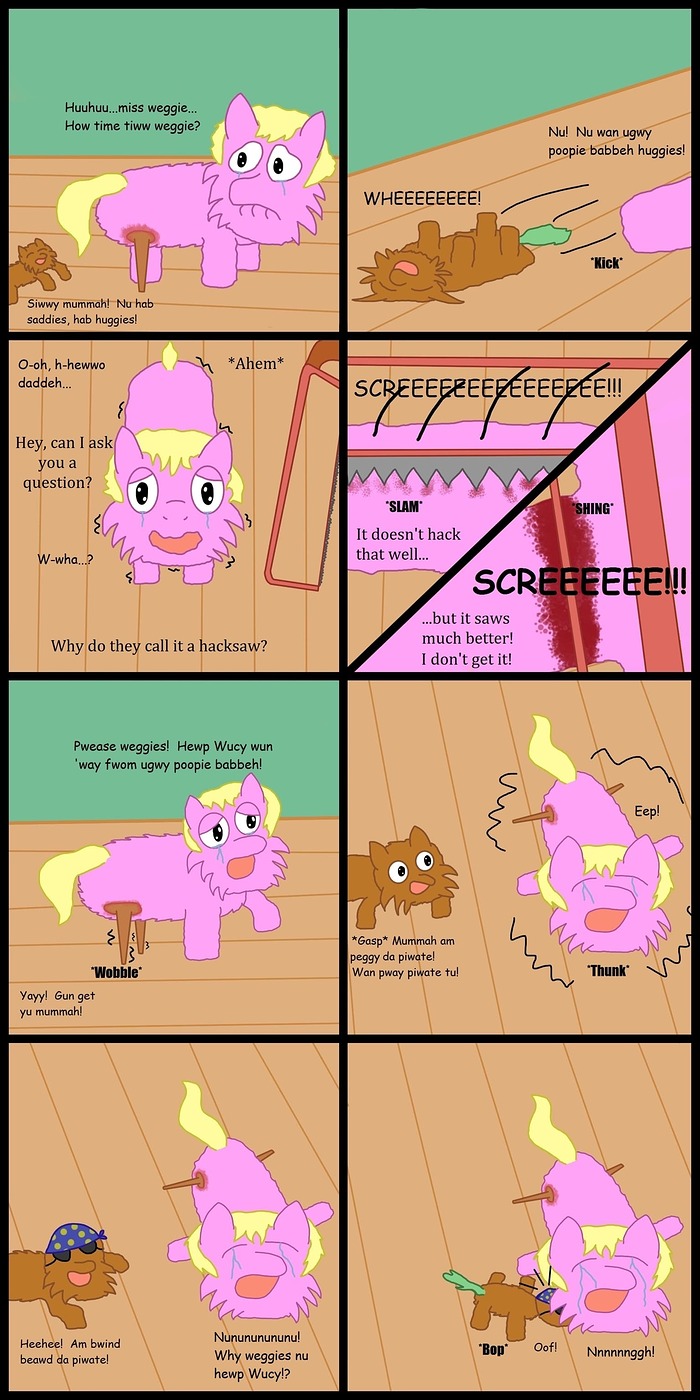 Originally I made this one for national talk like a pirate day but I think I'm a bit late.
Part 1
Is she eventually rehabilitated? Or does she remains victim of her own actions?
brown baby is such a cute dummy tbh
She is a slow learner isnt she ?
Maybe if she loses a few more body parts.
If not, she wil be pillowed and the foal wil use her as a trampoline having the time of his\her life.
Oh that would be awesome!
Love that brown baby



That is part of the humor sometimes.
"I had to amputate everything up to her snoot before she accepted the baby."
"Babbeh wub mummah!"
Babby hugs fluffy snoot laying on the floor.
The snoot coos.
Sorry, my weirdbox is showing. Don't look now!

Weird box is fine
I just struggle with doing weirdbox myself
I am best with hugbox or abuse container.
The way this one is going she will turn in to an amorphous fluffy blob with the brown foal bouncing around.
He is utterly oblivious and all the more likable for it for some reason.
My brown boi is incapable of fear. You can punch him in the face and he'll take it like a nice game of pattycake.
You should do more with him.
Poopie casually getting its mummah maimed like an ice cold killa

Suspect a matter of clashing wills in many such cases. If one cannot control ones babbehs!, then what manner of fluffy is one?
That is just a foal who loves every moment of life. She should follow his lead before she's out of legs.
Do like that endearingly stupid babbeh. Hope for nice things for him.
Don't pirates have eyepatches?