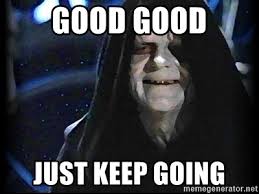 at this point i dont think theres a demand for these, i think this factory is just run by an eccentric billionaire
The factory cafeteria serves weird little drumsticks for lunch every day.
The same eccentric billionaire also owns a cardboard box factory specifically to put the boxes in alleyways for feral fluffies to live in.
And that's where all those cardboard boxes come from, @Zaraishu! They don't just materialize out of thin air!
God, if only people knew just how much work goes into making fluffy stories happen. You think all those feral herds find their way into people's gardens by themselves?
I love this concept. If I were designing this deweggifier, I would rotate the fluffies so that they face towards the side rather than forward. The spew of scardey shits would project harmlessly into a collection vat and you can fit more fluffies per meter of conveyor belt. The downside is that the fluffies wouldn't see the ones in front of them being deweggified, but we can fix that with a mirror.
Screw you! My daddy worked 30 years operating an orphan crushing machine and he was a great man! Without his contributions the orphan population would've spiraled out of control, devastating the middle class!!!

massive /s for any particularly gullible people
As they are being taken to the blade they should be shown a video commercial of the process they are about to endure, complete with smiling actors and pleasant/calming music but still including the screaming fluffies.
Employee one: "Oh look. Leggie surprise."
Employee two: "'Surprise! It's got leggie!'"
Ah, how fine it feels to see Egor's works remade into beautiful art.
You keep at it, Artist-Kun!
"So we're running a breeding mill full of horrific abuses and the worst excess of factory farming dialed up to 11."
Yep.
"Only for them to deliver foals…"
Yes
"to cut off their legs."
Yea
"Than we recycle the pillowed foals back into the same mill for more horrific abuse and breeding."
That sums up what we do here.
"But why?"
Rich people?
"Good enough for me. Hand me the Castromatic 3000."