Hey guys!
Long time no see and all. I just felt like this is as good a time as any to make a proper announcement, since it's been a while. For those of you who were around during the migration of the website, you might have witnessed some of the troubles we faced early on, but it seems like right now everything's running (relatively) stable.
Some of you may still sometimes run into e-mail (registrations, DMs) issues, but I'm trying to resolve those whenever they pop up. We have a fairly limiting host who's barely able to accommodate the mail server and this website, and once a while it runs out of memory and needs to get kicked in the butt to restart.
Additionally, I'd like to apologize for not having been super actively involved as of late. The migration took a lot more out of me than originally anticipated, and the people that helped me set it up were equally drained, so I personally just hunkered down and let the rest of the team handle most of the website moderation. I'd like to say I'll try and be more active, but truth be told I've got a lot of irons in the fire, so administrating the website takes a lot of out me. Hopefully though, the rest of the team will be able to handle it.
On that note, I'd like to announce that @Karn has joined the moderation team, as some of you may have noticed already. He's essentially co-admin in terms of making decisions, and I hope you all trust him as much as I do. It's wild to me, thinking just around a year ago I was discussing writing tips with him, never would I have imagined we'd end up in this situation.
I am, however, still actively looking for people interested in moderation, so please, if you feel capable and are interested in doing it, or better yet know someone else who might fit the bill, I'm always open to suggestions. I can't promise I'll take everyone, and I'm running it by every team member just to make sure everyone's on board. Moderation on this website is an incredibly demanding job at times, it might not seem like that from the outside, but trying to keep everyone happy is a delicate job and sometimes you're going to have to be okay with being the bad guy. Just keep that in mind before you apply is all.
---
With all that talk out of the way, I just want to say thanks again to everyone for being (mostly) chill about everything. I know there's still a lot of discourse regarding particular topics on the website, and I haven't really been able to fulfill all the things I wanted to, but all in all you guys have been very welcoming to me taking the reins. And naturally, @Virgil is also still around and keeps an eye on things.
But, what would Christmas be without presents! I sat down a bit and worked out how theming works on Discourse, and am proud to announce that we now have several new color themes available for you to pick between. What you'll want to do is head to your User Preferences, check the Theme box to "Default" and toggle between "Color Schemes" at the bottom. Hopefully you'll find one you like.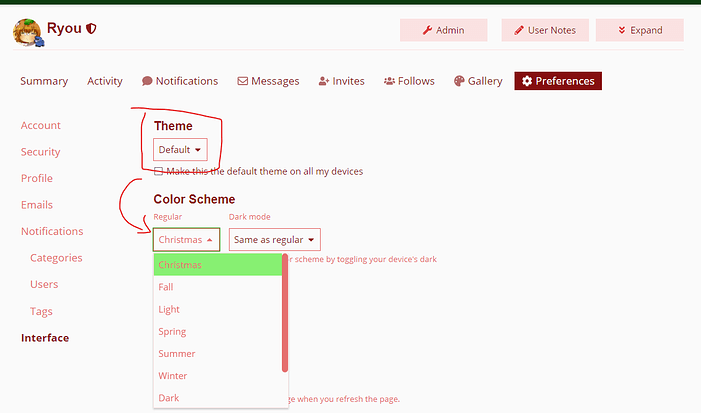 Naturally, Dark is available just as it was before, but we have a couple new Light options, including a Christmas theme I whipped up. If any of the colors are off or weird looking, feel free to poke me about it.
With all that said, Merry Christmas, I hope you'll all have a good festivities, and we'll see each other around. Bye!