I feel its way more common to see sorry poopies nowadays
Brutal comic, they shoulda have listened the first time
That seems a tad excessive.
Fellas I don't know if you guys are aware but,
I am not fond of these critters.
And this is why!
Fear of humans and violence overrides a lot. And frankly, if they listened they might've been doomed too. Its possible they'll lose either way.
Really? I thought you were a pro-hugboxer. /s
He is indeed a pro-hugboxer. Pays the bills. He's an enthusiastic amateur abuser to compensate.
Oh no, I'm not pro. I only dabble.
For sparing periods of time. <.<
That was a common opinion when it was originally posted on fluffybooru, is it just that the human is quick to violence that makes it excessive?
I mean how angry would you be if you asked someone to leave your yard and they looked you in the eye and literally shit all over you.
But if you think about it this is in many ways less cruel than other fluffy abuse as its over quickly.
just realized we never see what happens to this one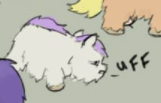 Classic lawn invasion. Simple and to the point.
I totally didn't forget about it when I originally drew it, nope, no sir.
It didn't shit on him, it didn't try to run, and it didn't try and bite him so I'll say he let it go.
So you're okay with me claiming your place and shitting on you?
PM me your address, please.
The violence and everything this comic offers is on point…except for one thing. I didn't see a single "SCREEEEEEEE" through out the entire ordeal. My heart needs that…otherwise good job
Some people pay for that. Make sure Weasel at least pays for gas and buys you dinner.
Nothing like a good old-fashioned neck snap…
He even got down to eye level and tried to be reasonable! I wouldn't get them away so easily! At least 5 to 8 hours of pure agony instead of semi-quick deaths!
They started the fight, never start a fight if you aren't prepared for the consequences