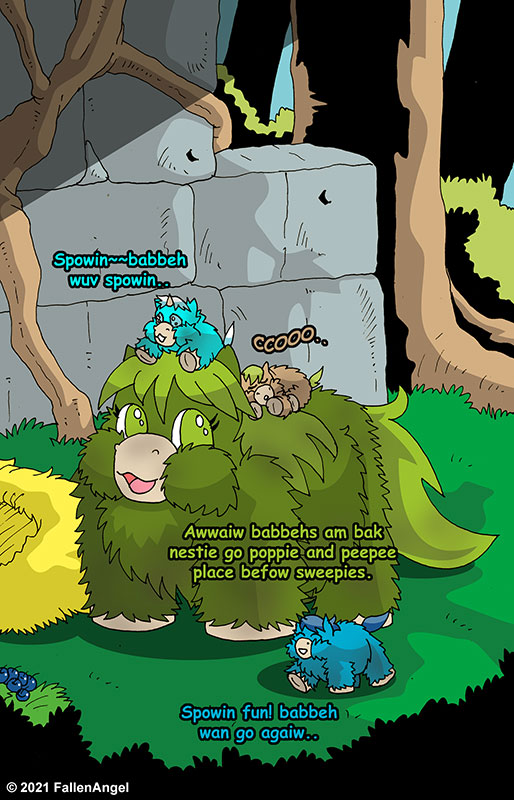 Mare and her babbehs returning from exploring, teaching them how to survive the wild.
I like these moments where ferals teach lessons to their foals!
Most of the "Spolrin-babbeh" stuff I've seen ended in death…
Always splore only with mummah or daddeh, babbehs.
I love how you draw your fluffies.
They are quite adorable.
Yep. Great art! I love them

Is that acorn asleep in the Mom's back? Is this a prequel to invited!?
Nope thats just an earthie foal.
This is absolutely wonderful! It feels so real, seeing mummah teach her babies about the world. Feral life is something they wouldn't know innately, so is some real personal information being passed on, and that makes it feel even deeper.

Imho I think there's too much of that. I kind of like to see more situations where they get by, as having them too easily kind of takes away the plausibility after a while.
Definitely some good advice there!
I can see both sides here. Foals that "splore" on their own are at much greater risk than ones that do so close to their parents. The same is true for any creature, that's just life.
They're almost never out of eyesight when they get it, unless in an Abuser's home though since the purpose is always to torment the mother with the immediate suffering of the Foal.
Killed.
Its always immediately in front of the parent.
True, but a fluffy's eyesight is much further than their legs can reach. If they're in grabbing range, they have better odds. "Better" doesn't necessarily mean "good", of course.
True. But their grabbing range isn't much further than touching range for their body, especially for a Mummah resting on her hindteats. Plus the entire theoretical purpose is a Foal learning independence to be a scout, or whatever reason Hasbio programmed the behavior. I'd say its an evolutionary holdover from their genetic base animals, but they have an instinctive word for it and their mothers encourage it. Maybe just to develop their legs faster for sale?
Unfortunately there isn't much potential I can think of for Splorin aside from abuse for a standard Fluffy. Its either cute as-is or a setup for pain. They're too slow for effective recon or fighting literally any other animal, so there isn't much point to encouraging the behavior for an owner.
Maybe show dog Fluffies who need to do an obstacle course quickly? Or Fluffies who's job is to infiltrate herds?
GOD…never go full abuse, youre the hugbox we all need
Earth tones may have an easier time blending in, if stealth is needed, since speed is out.