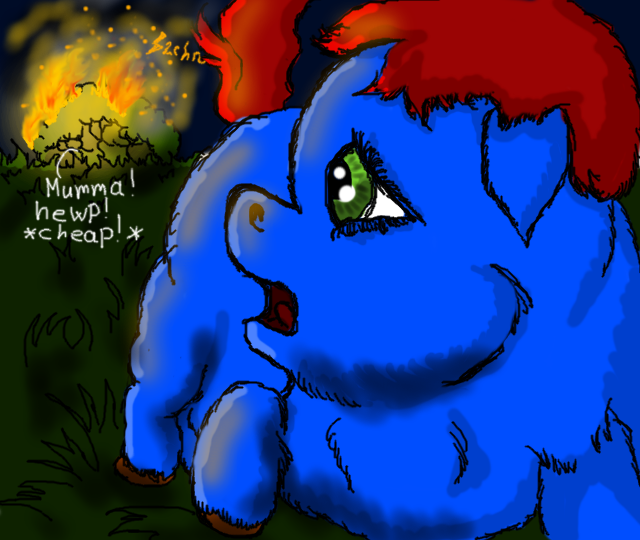 YOUR GOD DAMN LIFE !!! T'hats right !!
After all, a dead mummah = dead foals
and, dead foals =/= a dead mummah :v
Damn.
A Fluffy's sole effective defense is their ability to soread fire everywhere and get an effective human death toll.
But a Foal can't move fast enough to manage it.
Such a tragedy.
I think fluffy mother logic is: 'I can always have more.'
It's a bit callous, but when you lose offspring at almost an equal rate as you can have them, one tends to be more jaded toward their childrens' deaths.
Excatly :v
And somehow it's a "good" species defence :v (it's not ethical, but it work somehow :v)
Yeah. The reason fluffies are so numerous (even with them discarding their undesirables) because the parents put themselves first.
I do like the canons that employ the either parent will sacrifice their children to save their own hides. It adds to the 'unfinished' trait of fluffies.
It also adds to their prey status. I've heard it observed the more likely a species is too have it's young sure our not make it, the more they'll often have overall. This certainly bears out with fluffies.
Yeah. I was thinking that too. How certain animals will have large litters of offspring irl for the same reason (ie rats and rabbits come to mind), but logistically speaking: the more offspring the better chance your species will survive.
In nature, it is normal in some species to let their young be eaten, so they can runway. Because, as @Fluffocalypse wisely put: "She can have more".
Really, I saw a video about a mother kangaroo trowing her Joe to its death when pursued by a predator, only so she could survive…
You know, nature is Fucked up.
Oh ! it reminds me the video of the mother bear, after losing one of her two child, ate the other one :v (to avoid wasting her energy to raise only one bear).
Yeah, I did a whole storyline about that. Nature is not your friend, and nature doesn't care if you live or die.
Body of an r selection species, superficial attitude of a k selection species
That shitty mom deserves to burn as well.