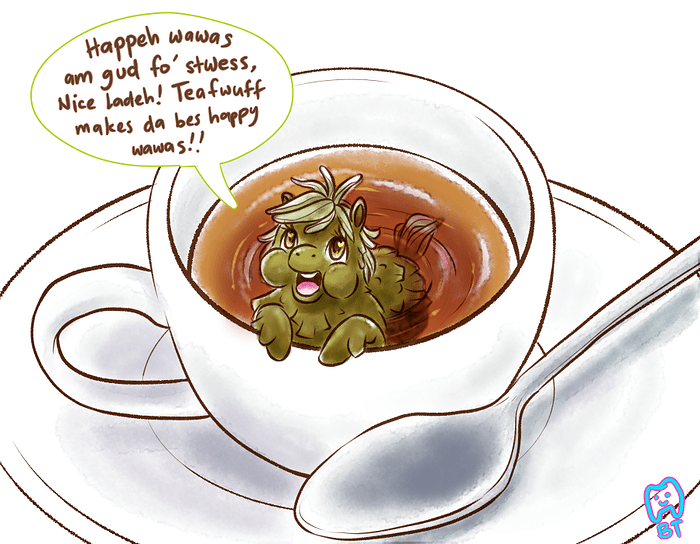 I can't help linking the color of the water to how normal fluffies can, ahem, change it's color to brown
But what if it tastes good and has caffeine in it?
Are they reusable or do you throw them away after a single use?
Industrial one = single-use, more profit since the user needs to buy more
Home breed = around 3-4 uses before it stops giving the water any taste
I imagine by the fourth use the fluffy isn't quite so perky and cute.
Probably whimpers a lot and promises to make better tasty-poopies next time.
I always believed the flavor came out of its leaf-based fluff, not the shit.
NO WAY IN HELL I'd drink shit flavored tea! No matter if it tasted awesome or not.
But at the same time, this open so many possibilities for trolling
"So do you like the tea?"
"Yeah, yeah, pretty good actually! Is it a new brand?"
"Oh no, I got one of those Tea Fluffies, you know them? A marvel of science!"
Gagging "THOSE THINGS THAT SHIT IN THE WATER TO MAKE TEA?! YOU GAVE ME SHIT TEA?!"
rolling eyes "Oh come ON! It's organic! It's good for you!"
Oh come on, it can't be any worse than Kopi Luwak.
The legendary shit coffee!
@Virgil , my dude, you just made me realize people would really drink fluffy shit tea XD
I would tbh. But I also had a wet dream to a smarty giving me a load of sorry poopies to my face so there is that too…
I had a wet dream to a Anthro giving me a bj, bbbuuutttt we dont talk about the Anthros so keep it a secret please

Honestly combining tea with fluffies makes me very happy.
'Nother question: is it save for the fluffy to put it in boiling water? Or is fluffy tea safe to drink for the costumer when it's poured luke-warm?
boiling for single-use resulting on a jar for at least 1l of tea and no interaction with the customer.
luke-warm pouring on the cup so the client can interact with fluffy and even take it home if he so desires, otherwise fluffy is disposed of after use