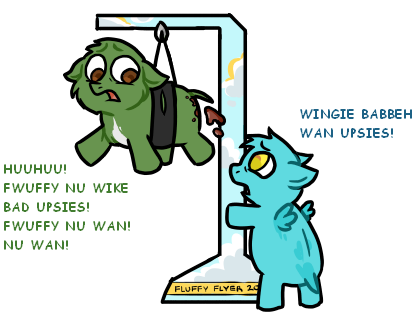 Yay! New ESF!!
And clearly the two should trade places
It's great because each of them are frustrated by their situation.
Yup they should,i wonder why the switch in the first place?

Punishment perhaps?
Nah. Let the envious suffer below the fearful.
Maybe? It's not marked abuse. So I don't think it's necessarily out of malice. Without context it could be a stupid human thing. "If one fluffy likes it the other should too."
If it is punishment/discipline then I'd wonder what the lesson is.
Shrugs
I'll just enjoy the cute/pathetic pair's situation.
Andddd he just shit himself as well…poopie bombbb!

I would say "it can't be discipline or dummy human because surely they're know not to do that.
But after years of working newspapers? I'm going to say some of these fluffies could have human owners every bit as stupid as they are.
Abuse world be doing this expecting them to poop and having ANOTHER thing to punish them for. Set them up to fall again, again, and again…
And again: very cute, like the art a lot, and the simplicity of the scenario is genius
I was personally imagining a stupid owner situation when I drew this. I mean, pegasus fluffies like to "fly", and all fluffies like to play pretend - so hey, it's easy to assume that an earthie fluffy would be okay with it too.
At least the poop smears will be easy to clean from the Fluffy Flyer 2000's dynamic plastic coating!
Well, you did a great job on this.

[Pegasi laughing happily.]
Earthie: "SMAWTY WAN PWAY TOO"
(and/or)
Pegasus: "Nu! It am Fwuffy's toysie! Gu way Dummeh!"
I love your fluffies! They're so small and helpless even in the face of little obstacles like this. The Fluffy Flyer being an obviously mild, fluffysafe toy but still causing such adorable emotional distress is so cute!

…That can be a punishment idea.