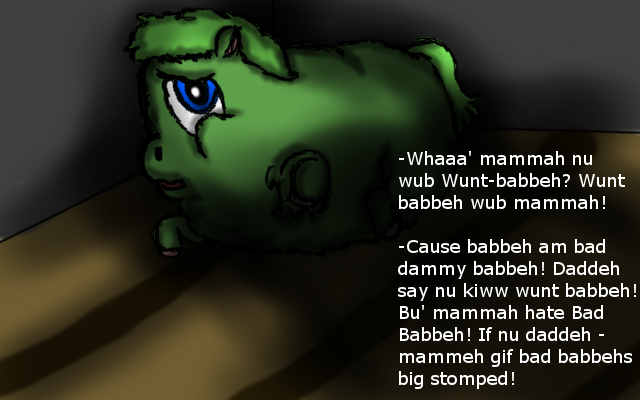 The runts gonna end up crying and when the owner asks why it's crying, it's gonna out its mummah for not loving it.
Hopefully, he kills her and doesn't kick her out on the street.
Stop Fluffyfying my childhood photos.
she can always bully him into silence
Either way, any signs of the runt acting differently than usual means something is up.
Or have a cctv in the safe house
Takes a note on it too
Bold of you to assume daddeh cares about fluffy runts
He cares enough that he told his mare not to kill the runt.
D'oh. I'm an idiot for missing that

i mean if it has to be behind his back
Bad mothers get their spines stomped on.
This is the usual route, though it usually fails due to fluffies having the subtlety of a turd freshly laid out on a stage. It'll end with the mare killed, tortured, or abandoned for doing something it thought it could get away with, but whether the runt survives is by chance, even smaller chance still intact.
A competent breeder or owner that has an interest in a runt's survival wouldn't leave it with a mare that hates it, just like with alicorns you need to either handraise it, give it a milkbag, or a nursemare that likes all foals regardless of condition.
Cripple the bitch mother and throw her out, And if the runt's siblings share their mother's sentiment do the same to them.