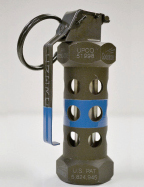 This is an M84 "stun-grenade" or "Flashbang" it's used a "non-lethal" means to enter and clear a room, it goes off at 170+ db and often blinds the targets. Now supposed an abuser were to throw this into a saferoom or daycare, what would happen to the fluffies?
Would they die from the noise?
Would the flash render them blind?
Would they catch on fire if the flashbang landed near them?