Thank you @Virgil for retrieving this lost art of mine from the booru. Now I share it with you all!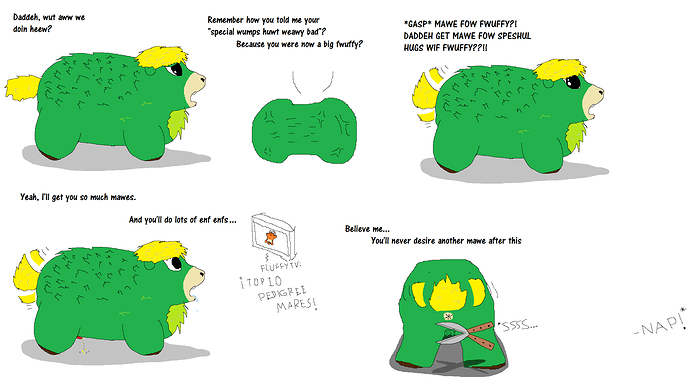 Fluffy: … … … … SCREEEEEEEE!!!
Yikes. Duuude this isn't gonna end well. Your gonna scar the damn fluffy. It doesn't really look like he deserves it.

That throbbing testicle close up…
All Fluffies deserve the worst of fates for the mere fact of being alive. Their own existence is a transgression and an insult to life and nature.
Such is the life of a fluffy. There's much they don't deserve, but they still get it.
SURPRISE! This is gonna be a prank he'll never forget!

Lmfao. Nice. I never uploaded anything to the original booru, but I posted a few things on 4chan *back in the booru days including a decently-lengthed comic with 10 or 12 panels. It literally exists on the internet somewhere, I wish I knew how to get it. It was with a purple fluffy who got his nuts cut off lol. Oh well.
My goodness. Brutal, love the complete betrayal.
Naaaah. It stops meaning anything if its just a bias of them deserving any torment. There is potential with fluffies.
STOP!
Don't throw away those fluffnuts!
Not until you've tried fluffy oysters!
You should have done that when it was a foal, then again you just wanna enjoy its suffering go for it.
The edgelords have escaped 4chan.
Future enfie-pal

He's a shit-rat, he deserves it.