I do not mind.

Iarur did some hiIarious controvertiaIs for it in previous versions.
Idea, bread bowl bowl fluffy.
Voting will start on the 18th.
God damn it I won't be able to finish my comic in time, but expect a late "entry" from me on this theme in the near future.
Question, in the spirit of just wanting to give content to the community and not wanting a prize, is it okay to submit stories in general if they have Breadfluffs as a focus?
Yes. I have accepted story entries previousIy.
If you dont want to be voted on I can Iink to it in the gaIIery.

HOLD ON, THERE ARE 0 VOTERS?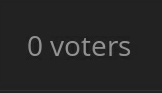 I WILL JUST VOTE FOR MYSELF AND WIN BECAUSE NO ONE ELSE VOTED!
VICTORY SHALL BE MINE!
-

You should probably do a new post where the voting is done,

Raw truth

Because no one knows that the voting is here and no one knows that it has started, because no one is going to return to this post, because they have already seen this post, therefore don't expect it to have been changed.
gotta vote for 4 contestants. And I decide tie breakers.

If no one votes I simpIy choose.
I voted on you as well
<3
lol i was so surprised to see myself on top for a while xD
those beautiful full-page full-color illustrations are absolutely prizewinning

im excited to see who comes out on top
lmao we got 5 people tied for third
I think the problem was having more than one option available to pick
it also messed up some posts of mine in the past xD
this is my #1 and your reward is a crisp internet high-5.
Congratulations to this years winner, @Karn! Second place @SqueakyFriend and third place @WildeFaun ! As well as all that participated.
If you're interested in claiming your prize (rankers and honorable mentions alike) contact me in pm's.

If you'd like to donate your prize to the FC server fund instead of claiming it yourself or commissioning art I can send it there as well.
Any unclaimed prize money by December first will be donated to the community fund.
Congratulations Karn and Purrpaws and Wildefaun!! And thank you to those that voted for me, I'm surprised I got a podium place at all with how the poll was going!
You can donate ours. We just entered for fun.