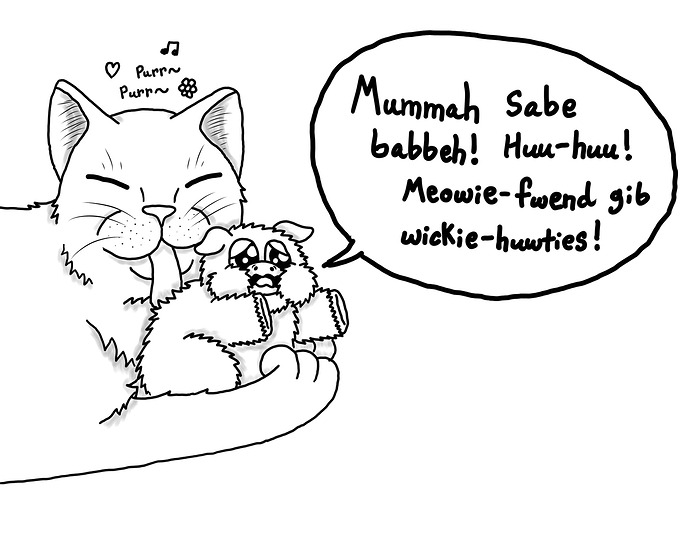 super cute

Poor thing probably the tongues barbs are irritating the skin.



This annoys me more than hellgremlins.
That awesome kitten is showing their love and the ungrateful dork asks for help.
But the whole thing is just so cute, I'll let this insult to catkind slide.
Lmao holding back its mama-no not yet mama it's to adorable
Yeah, cat tongues can be like bloody sandpaper at times, so it's understandable the foal dislikes it.
Really.


I still love it when my cats lick my hand when cuddling them. They are just adorable.
Except when it's my mother's elbow.

When my kitten lick my fingers it's kind of irritating, now imagine if your skin was soft and thin like a fluffy foal, it would probably hurt.
Yeah, it's quite easy to imagine a foal's fur wouldn't provide much cover to the delicate skin beneath.
Ive got one cat that has a very soft tongue. She has this weird habit of licking my ears when she's hungry. My honking chonker cat has rough sandpaper tongue and he licks my armpit sometimes. He might be broken, mentally.
I'm surprised he can feel it through his thick, piled fluff.
Never question a cat's actions. If they managed to have us humans revere them as gods first, then as gods AND pets, they must be a superior species.
Do no question the enlightened ones' judgement, child. For you cannot hope to ever comprehend a shred of their vast knowledge and motives.
Judgement of the chonky boys
It makes me worry. The worst thing is Biofreeze, a muscle rub I like. My Siamese doesn't react to catnip but she LOVES that stuff…"Stop licking that! I don't know if that's bad for you or not!"
Once I was sleeping over at a friend's place and my friend's cat started licking a mosquito bite on my arm. It was awesome.
I would think that the fluff would act as a good enough barrier against the barbs on the tung; maybe its a young enough foal that the fluff isn't thick enough yet which would mean that a newborn getting licked by a cat would be in absolute agony.
Oh no. It may actually be clean!
Well little one I'd love to but in all honesty it's pretty cute and funny.