Sometimes nothing you do will make someone's grateful xD
---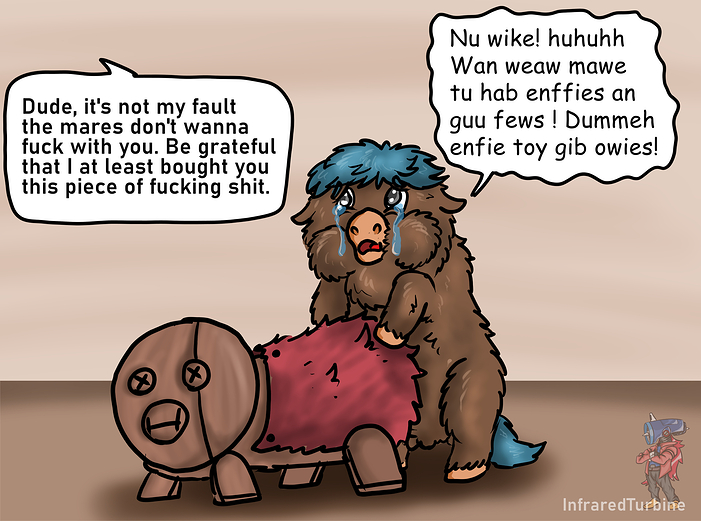 ---
For commissions, illustrations and so on, feel free to contact me!
I said it once, I'll say it again - I hope he gets a splinter on his dick
Eh, I can sympathise, you can find a "substitute" for a lonely night but there's nothing like the real thing
I'm sure you can bribe a mare with sketti if she plays the part, or put a blindfold on her until it's all over. Not like the wee dudes asking for a mate, he just wants to get his dick wet
the splinters help kill the urges.
The back end is a pencil sharpener.
Fill it with skettis, let him finish, and make him eat it.
Dude why pay for that you could pick up a feral for free
The feral still isn't likely the fuck him, and he seems the type to want a willing partner so no point getting him an enfie-pal either since that'll just bum him out even more.
"The only way daddy could find you a fuck-buddy was to cut their legs off. Have fun."
an enfie doll and a pair of tiny scissors cost about the same amount of money, that ungrateful little fluff should really do his best to understand that
Just drug the fluffy before letting him sex them. Or, dare I say, get him a fluffy realdoll?
Or an Enfie pal mare, like those modified sterilw ones that are in a box or those with no front legs or something?
Dude's pissed that he spent money on a piece of wood, you think he's gonna shell out the cash for a 'Real-Mare 5000'?
True. Looks like frugging fluffy is back on the menu. Just share a little of your own with them. I don't think it'd take much to make a drug addict fluffy.
I kind of feel for the little guy. I'd think another, female, 'poopie' fluffy would be out there. I don't think the owner would want a litter of them, but still.
Fuck him, but not literally because thats what he wants
Switch the enfie toy into a pencil sharpener if it tries to complain again.
Cut off his dick and leave the balls so he wants but can give enffies anymore, hopefully he gets a metal breakdown due to his pent-up sexual frustration
Geez, he didn't think to use a pillow? Gotta be easier on the dick than a block of wood and he probably already has one.
Then he wouldn't be able to piss anymore either.