@The-Master-Butcher ´s Bubbles vs @appletesseract ´s Wasabi
---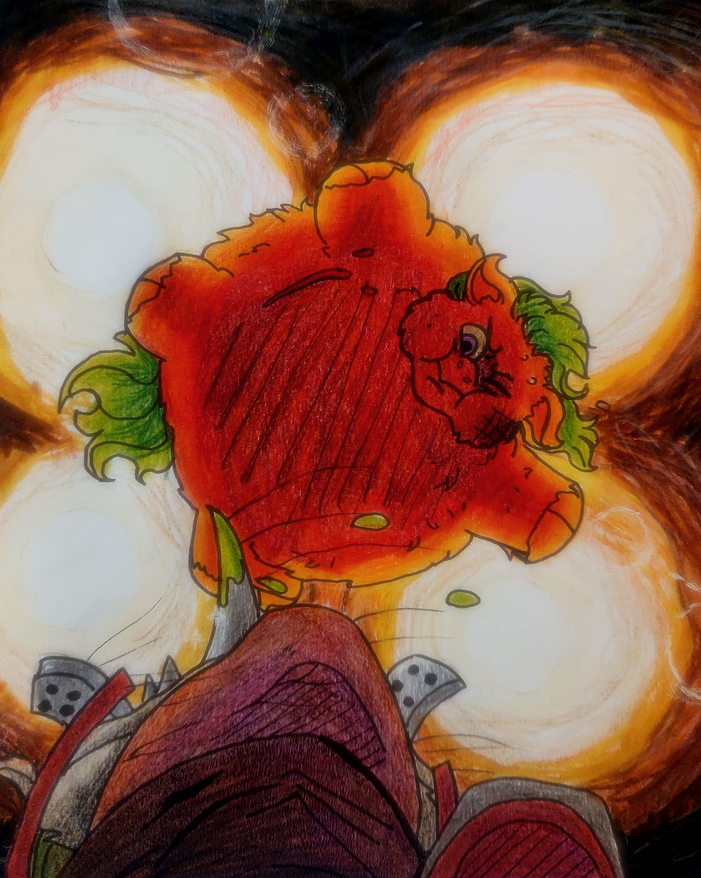 ---
After drawing both, I don't know who to vote for (ʘ⁠‿⁠ʘ; )
I think Bubbles met her match.
Bowling into things has served her well up to now but Wasabi is sharp and the edges are laced with spice.
Burning, stinging owies are in her future.
But she fought like a champ.
Also this is a fantastic composition!
Yeah, you're right, that and Wasabi's first win was a lot more fantastic than bubbles
Bubbles just won by popular vote, Wasabi was chosen by a council of local stoners
I wish I was stoned so that I could appreciate the color work of those lights while as high as Bubbles is.
(⁠≧⁠▽⁠≦⁠) I'll get stoned for the both of us
This is brilliant! I love the perspective. Great work.
Bubbles is looking pretty imposing here.
And we can only see the results once the poll is over, I'm way too excited which two Fluffies will be in the finale.
Thank you!
this took 2,5 hours with colored pencils, felt tip markers and slight light adjustment with gimp.
I wanted to try out a new perspective and saw a nice opportunity to draw Wasabi throwing Bubbles into the air and her coming back down ready to crush them.
If Bubbles wins, its probably going to be by eating all the wasabi.
Interesting as this is the first fight where Wasabi isn't portrayed face-on, doing something cool/looking bad ass.
Bubbles would fare good enough depending on how much fat have on her body and how long are Wasabi spikes.
The spicy part IS going to be a problem
Go Bubbles! That means she's in the final round now!
This fat bitch is going to be a star!
Good for bubbles though I'm a little upset, Was hoping wasabi could take this one, seems there will likely be two comedy characters in the finals.
You can tell in the picture Bubbles is sweating and struggling. She had probably consumed most of the wasabi at that point in the fight.
Clever girl.