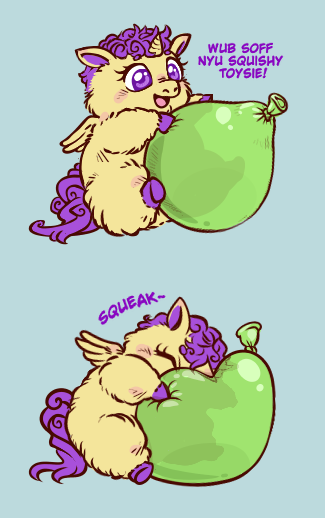 Careful…
Yeah and then scaredy-poopies all over the place.
Super adorable, but reminds me of that Far Side cartoon with the porcupine kid playing with a balloon.
That's a different kind of squeaky friend! Super cute! (Probably gonna be short-lived with that horn, though…)
Im curious if it's just air or if it's gonna pop and cover them in foam.
Wonder if after the initial trauma they'll think
"Squishy toy no mowe, bu hab wots ob babbehs." and tries to find a way to entertain themselves with the pieces.
Dumb cutie gonna get sowwy poppehs uwu
Man your style is awesome
Oh that's gonna pop and she's gonna get the shit literally scared out of her- Get this babbeh a bean bag!