Actually, monocrome complex is pretty interesting. I kinda wish to see more of it
Thanks for the Hollywood Boulevard reference! Heeheehee
This is some sick stuff.
And I am enjoying it thoroughly!
This makes me so uncomfortable because despite how degenerate and gross getting off to fluffs would be, I KNOW if fluffies were real, there'd be a market for this
There would be a variety in the target audience for this media. Adult fluffies, owners who think it is something their fluffies want to watch, pervert fetishists, cult/b-movie fans, people who have impulsive curiosity, those who enjoy watching the weirdest videos they can find, and people who show it to others for shock value.
Porn is regulated and censored, but animals in reproductive behavior is not rated or regulated (nature shows usually omit open displays of mammal intercourse, any other animal is fair to display).
On monochrome versus bichrome, both are normal variations. Belle's complex comes from being "light tan" among vivid and pastel mono&bichrome litter mates, fluffy-on-fluffy abuse; never let poor Belle join in any fluffypony games… now she's all game.
With dyes, makeup, accessories, and wardrobe maybe Poney Boo Boo is next…
"Clears throat" Foal fleshlight
That is a terrible idea…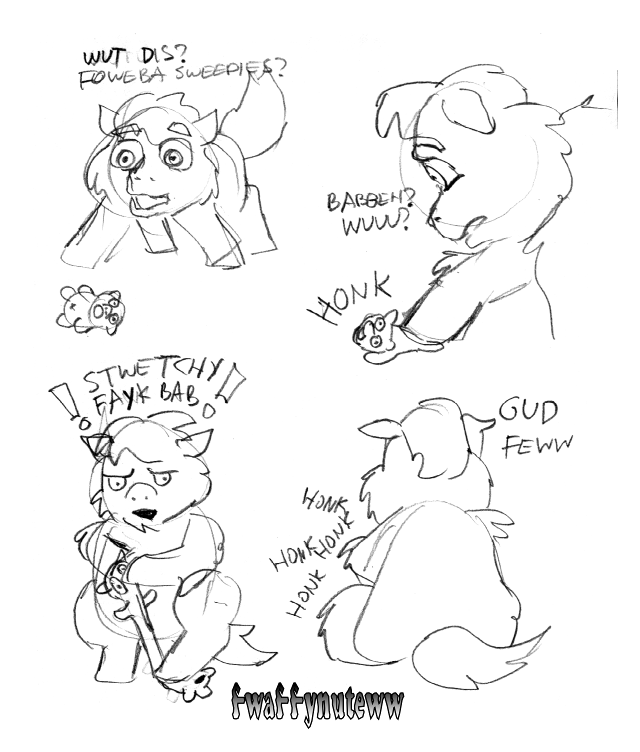 That's actually a brilliant addition to lore, and one I'm going to adopt to my headcanons immediately: Monochrome fluffies being embarrassed for not having a visible mane, as it makes them look like babies.
The art potential alone of other fluffies infantilizing the monochrome ones is so good I can't believe no one's thought of it before!

initially, I thought they are embarrassed because they are not as pretty as other fluffs. your theory is way better. adopted
This image didn't hit me until the "Here come the caterpillars." Line. That's the moment I realized that this is a creature with the mental capacity of a three-year-old in a porno shoot. So now I love this series, for how it makes me gag a little.
If you want to be deeply uncomfortably horrified think of all the mentally deficient, brain-damaged, and genetically diseased people that the modern medical system has aided in surviving to breeding age, the people who choose these as partners, that have intercourse, and produce offspring that are either born with the same or more defects and/or raised by these mentally challenged parents.
Now think about how society has changed in the last 100 years… what is happening in the 21st century is suddenly easier to understand.
… Thats… I don't know how to say how I feel about that. But to put it simply, with broad strokes. No.
But if we're gonna get into that, then we should talk privately.
I'm tired and didn't read the tags, so I thought this was cute and sweet until I saw the logo at the end.
Thanks for teaching me what that logo is, Know Your Meme. lmao
I don't think it's legal in most developed countries for people to be in relationships with severely disabled people.
Unless of course by "mentally deficient", you just mean stupid people. Those unfortunately aren't banned from breeding.
In rational countries the general coitus laws are "consent". Laws for the mentally challenged both protect their sexual rights and restrict. A key to that is an adjudicated filed record of declaration of diminished mental capacity and minimal capability of judgement (in some cases this gives the guardians legal permission for sterilization). For congenital conditions it is simply presenting the court medical records and doctor witness… by directly witnessing much much more difficult to have an elderly family member declared mentally incompetent (particularly to intervene for safety, secure their finances from every stranger who knocks on the door, and get authority to order in-home care and medical procedures).
But even the low functioning people will breed one way or another, and at much higher rates than the more rational and stable portions of a population.
Ok, the important question is. What do you count as mentally challenged?
Also, stop calling it breeding. It makes it sound like you're talking about cattle.
Breeding is scientific, you are aware yes.
We just use that word to give us a degree of seperation from animals, despite the fact we are animals but in suits. Although such a sterile term may seem inapropriate, it is more then accurate in this instance due to the way information is being presented.
Yeah, I know, but it's very cold.