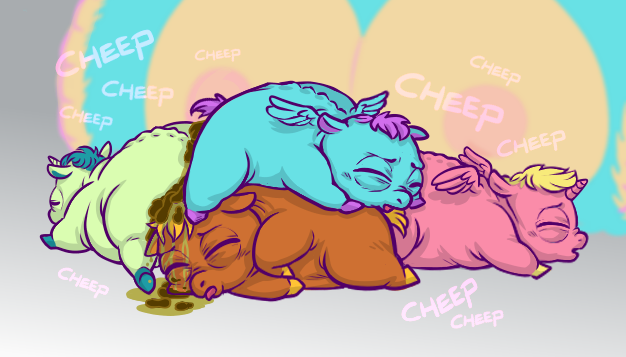 That blue one didn't get up there by himself. Someone wanted him to poo on the brown one.
I would've thought it was the mare but she looks pillowed.
Some are just born in to shit.
I don't think it's good for brown or blue
Brown is obviously getting covered in shit
And Blue is probably gonna shit themselves to death with how much they're firing out of there.
Shit times all round.
Blue's got a real cannon there
Their spines are somewhat disturbing.
Mom pls pick me up.
The often overlooked issues of the hug/fluffpile.

Well that and stepping on …things.
Behold, the Miracle of Life!
I find it ironic that the brown/orange one is the one that will be getting 'pink eye' when there's a pink alicorn.
Is it actively liking up the poo piss?
Damn that fluffy really is a birn literpal.
I think it's more exploring with what sense it has available and gagging in revulsion. ~chuckle~
"And the lord said to the fluffy of bad colors, poopie you are and in poopie you will become. "
biggest poopies 3:19
"Wet fwuffy ou am wiffout sin cast the fiwst poopies~"
innocent foal shitting intensifies
"Foaw am dummeh! Fowmed fwom owiginaw sin!" Hits with hoof before taking them to the confessional for~ righteous activities.
Gods I love pictures of chirpies being absolutely rancid



Hero, you came back with a bang and I appreciate you.
Them 'miwkies' is fucking curdled