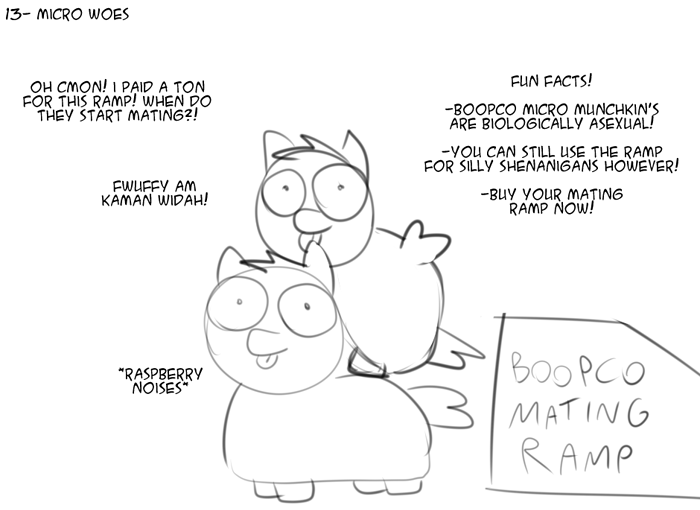 Day 13 of flufftober
Read the package before buying our products… or don't! we love money!
What they dont tell you is the ramp is a punishment tool and will 'mate' the fluffies if you put in the batteries and use the remote. There's also a set of buttons in the battery panel so they aren't exposed.
"punishment", cause they would probly go "yay wamp fwen" once they are run over
Alternatively…
Fluffy hawk, skateboarding pro!
(Cue strange boombox music)
Not "Superman" by Goldfinger :P?
Ye, strange hippie music.
"fwuffie just passin' fwooh kaman widah. Wemembah that!"
Just have the mental image of them repeatedly diving off the end of the ramp…face first. Still having the time of their lives, of course.
DISCIPLINE! God, I was looking for the word for like 2 minutes cause I realized I used punishment instead. xD
lmao they would go "again!! yay!" and repeat the process lol
(mental image of somebody loading a bunch of munchkins into a air gun and launching them off a wall)
"fwuffy wiww cweaw this gamesies wit nu continuesies!"
There, had to make an important addition.
ah yes, i forgot the most important part xD
Im imagining a future when we have a space elevator and we're sling shotting these things into the sun as a way to contain them since they're indestructible but not immortal.
Turning them into perpetual fuel.
@Booperino !!!
I just got asked why I'm quietly making raspberry noises at my desk at work, I hold you responsible for this.



(Joking about the rage, it has me giggling)
i mean they are very destructible. they just too dumb to feel pain or sadness over being killed/tortured
Probably mixed up my cannons on various types. xD
Or was just plane wrong. Regardless, picturing fluffies hugging the super dense interior of the sun gives me warm fuzzies.
For some reason that put this idea in my head…
Two mirco-munchkins and the Large Hardon Collider…