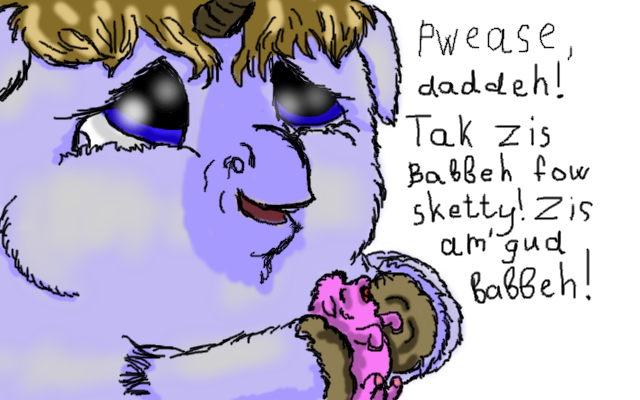 i accept a trade.

results.

And now you have your sketty meat.
Idea:
1: Ask the mare if you can check the foal before accepting or denying the trade (she will always say yes lol)
2:When the foal is in your hand, squeeze it as hard as you can
3:Tell the mare that the foal was worthless and that you deny the trade
4:That dumbass of a mare now doesn't have neither the foal or sketties😈
Alternative: if you don't like to get your hands dirty, follow step one but run away with the foal instead of squeezing it. Than do what you want: trow it in a dumpster, raise it, use it as food…
The most efficient breeder of all.
Merely wait in an alley with cheap homemade zoodles, and trade for quality Fluffies.
Make sure they know Alicorns are worth two sketties.
Summary

Poopie babies are worth one bite, because one day I will eradicate the ugly pastel colors when I unleash megaherd after megaherd of brown Fluffs into the gene pool.
with my glorious plans of destroying all designer fluffies, maybe we can join forces one day
Give Laxative Spaghetti, a new and special spaghetti for such a good mom.








Accept the foal, kill the mom.

"And how do I know it's your babbeh"
Imagine just spending all day getting them into Who's On First conversations with each other.
Get the mother and grandmother together, and use the fact they refer to themselves with "baby" and "mother" to keep them debating which vagina who came from.
Sorry but I'm gonna need more babies you dont have enough for skettis-holds foal in hand waiting for more babbies- bu is Gud babbieh-sighs-then no sketties for mama to make bestiest miwkies for babies an babbehs will go forever sweepies and you will be bad mama and babies will nu wuv you no more
This is how you get unions.
Do you want to introduce Fluffies to collective bargaining? Because…no wait, actually go ahead. It'll be an interesting social experiment.
Or instead of crushing it if your ballsy enough just bite the foal I have and spit it out saying the mama lied and it's no good baby and toss it back and watch her screech and beg her foal to no go foweva sweepies as it gasps for air as it dies begging its mama to keep it alive
"Thank you, fluffy! Of course I'll take it for my 'sketti; it looks like a very plump, tasty baby!"
Take the babbeh give the sketty and shove her head on the sketties and tell her she is a worst bad mummah and her babbeh will be given wuv and hugs, toysies and best of all - more sketties it can have before leaving.

Or some foal-be-gone (permanent effect) skettie flavor. To forever her not having foals to trade it for food.
No I don't want a gud babbeh. I want the bestest babbeh. Bestest babbehs give the best sketties. Otherwise no deal.