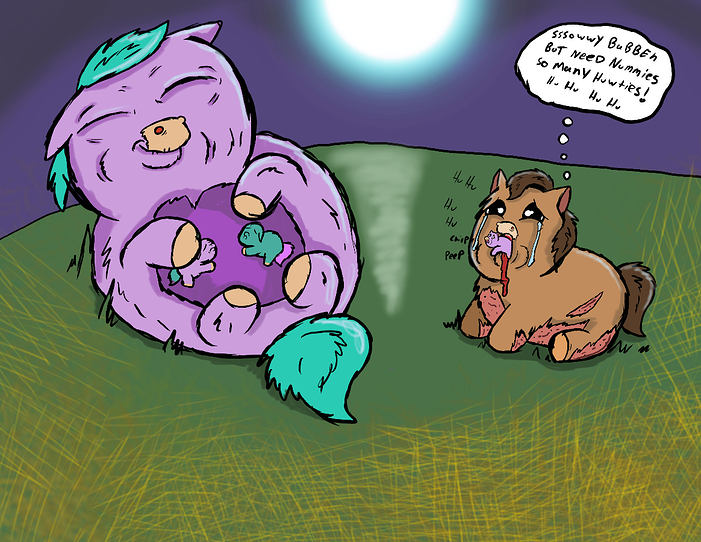 Hurt from a combination of bad enfies, the sand paper and tired from avoiding the nasty herd, and his old herd little 12 is exhausted.
His little body is tired and he sneaks away to safety, through the same hole he last left from.
Luckily for him he finds a nice bowl mare,(from the same herd he stole milk from and then led back to Holly's home) even more luckily, she had not seen the bad poopie baby but he saw her.
Nice mare could be his new mommy!
An obvious solution really… but there was just one problem.
He would get hurt and be called a milkie thief should he try that with these other foals around!
Well little 12 is hungry, and needs to hide the other foals; so his new mummah will think he's her only, thus best baby!!
One long evening 12 sneaks up and smashes and eats up the collection of 5 rare foals.
Any breeder worth there salt would scream and gnash there teeth roar and rage. 2 Alicorns, 2 Bowl-Fluffs, and a Unicorn with a glowing horn.
The horrid deed done the injured foal got some milk to wash down the babies and then went to sleep on his new mummah's tummy bowl.
For now 12 will rest and sleep and recover from his injuries but he's not only done one bad thing but many and his actions are slowly piling up.