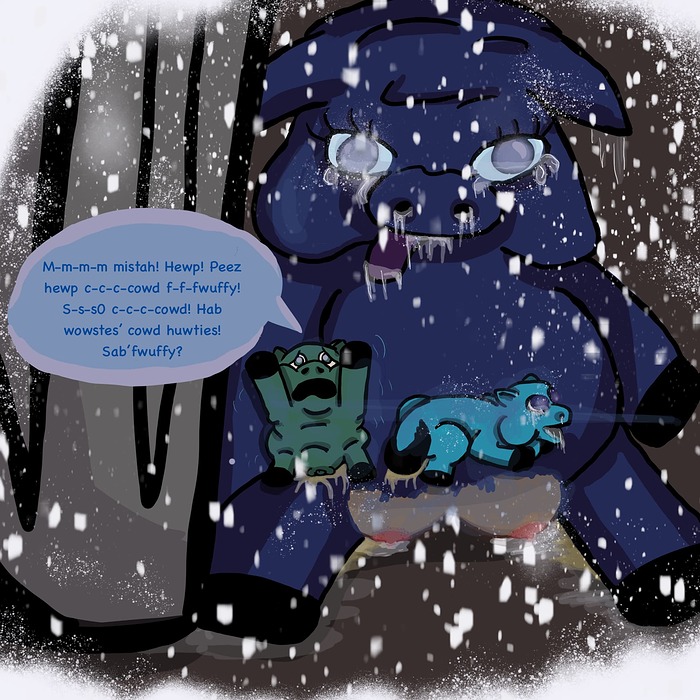 Little guy doesn't have much longer. He sure hopes that man in the distance hears his desperate squeaks for help.
His shit looks frozen to his mother's fluff. Even if someone hears him, and even if that person doesn't just kick him or ignore him, it's gonna hurt a lot if they try to take him off his dead mummah.
Also just noticed the frozen tears on the dead mummah. A slow, miserable death a fluffy deserves. Very nice work as usual.
~Takes a que from a recent comic with a fluffy frozen to a pole~
"You're not gonna like this~" Zip
~Forgets what he was doing after pissing and walks away~
Just points and laughs drinking hot tea watching him freeze
Nah he´s fine. He still has a bit of milk left to suckle on.
"Fear not, I'll save you!"
(Gets flaming torch)
"I just need to directly apply fire!"
Rather than milk, it's more like ice cream.
Ok, Ill help
tosses a hot cup of coffe over them
Dr Apfelpherd Leo DeCaprio skips on and sees the boxed herd
Oh? New members to my herd! Let's go, time for a quick visit to my lab, fix your mom, and get you guys warmed up!
To pick up the fluffy, turn to page 12
To check on the state of the fluffy, go to page 19
To kill the fluffy, go to page 25
To listen to the fluffy beg for its life for a sick thrill, go to page 27
"Am fwozen to mummah wi' peepees, if wawmsies then peepees mewt and fwuffy am fwee. Hoomin am su smawty!"