The original image belongs to @CookieCrunch and I have their permission to post this.
What if the trap is banging a woman tho?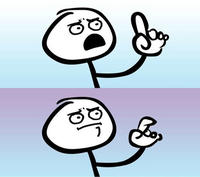 [Pulls up LGBT dictionary] well~
wait what ? what kind of fucking book is this ?
it's just a cooler word for tumblr
@Molls @Mr_Owl its a very very thick one that I smack homophobes with, keeps the agendas updated with the magic of the rainbow
lol u sound like a smarty fluffy seconds before getting shot
"smawty gun giv biggest owwies"
Tbh, I think the smarty would get crushed by the book before I even began to threaten anyone
No one can't pick up the book; it's too thick and heavy.