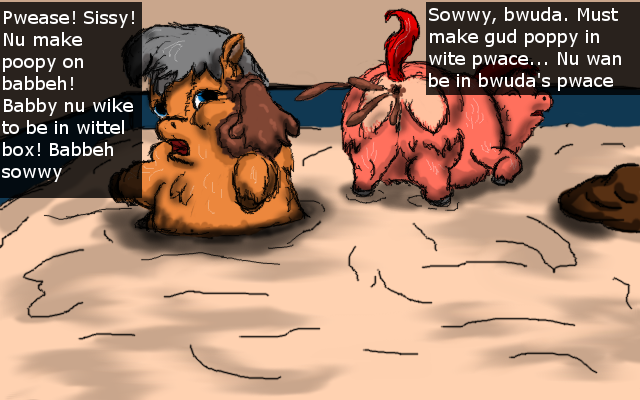 Bitch literally has a mile of litterbox yet she chooses to poop right where her brother at.
when Marakasaya1 said something non-sexual everyone: gasp

Maybe it's shit on your sibling or get shitted on
I think it's a punishment judging by the tags and dialog. The brown one probably shat on the flora and the owner buried him in the litter box as punishment.
It's because it's the right place
It's like chips. Even if you're not hungry, if they're sitting out, you're going to have some.
Shaving a Fluffy's rear just makes sense even for Hugboxers.
Just enough empathy to know how how he feels.
Not enough empathy to care.
Toddlers can walk into obstacles because they're so focused on observing them they can't simultaneously think about avoiding them. I think same is happening here, "Oh no brother is in litter box! I have no choice but to poop on him now or I'll be a bad fluffy too!"
Its a fluffy shit on fluffy world, kid