Gotta be his mother, right? Can't imagine what else would make him drop aggression suddenly with an audible heart beat skip. At least one too young for a Special Friend.
I hope he doesn't get duped into betraying the garden in return for the false promise of reciprocated love.
Um, Acorn said Daddeh, that his "dad"
Love how daddy dearest gets ominous smoke parting in his wake.
Also consistent good use of angles. Good stuff. Very pro.
The text in the last panel is different color, so it must be someone else. Probably the mother
Yeah, didn't notice that.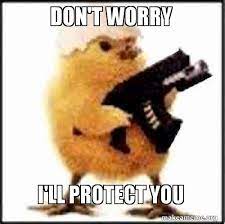 Gotta hand it to the kid, he's got serious balls
Okay but real talk, Acorn is so cute standing up for himself by angrily peeping at his smarty dad.
If he was puffing his cheeks, I would die of cuteness.
Oh nuuuuu! D:
This is super adorable so far, please keep going! I'm loving it

Let's see how long Acorn can last. If he were smart, he'd tell daddy about the things he's not supposed to eat and then watch him get shrekt by whatever fate awaits those who don't follow the rules, but well, not sure he's quite got that insight.
Either the Dad is going to kill Acorn or Leafy is going to go full-on Poison Ivy and make fertilizer with the dead Fluffies. I really hope it's going to be the latter.
Or the crow we saw a couple pages back is the one to kill the herd and save Acorn!
So a murder will murder a buncha Fluffies?
you could say a murder of crows

YOU PICKED THE WRONG GARDEN, FOOL!