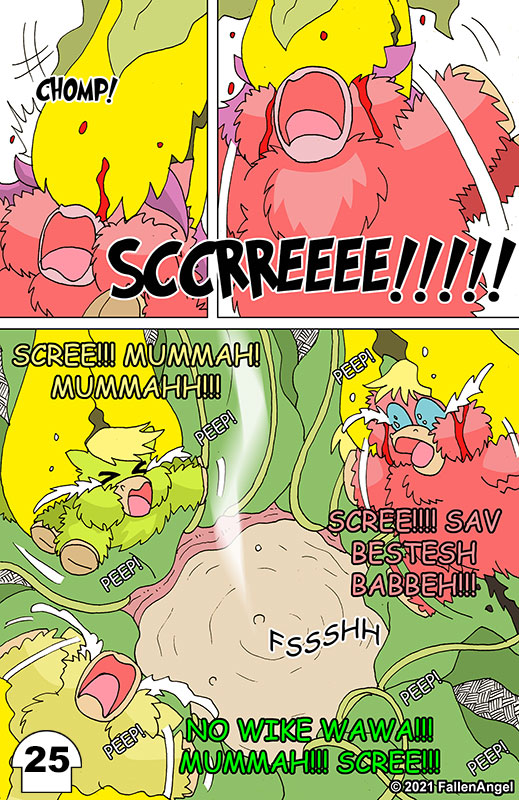 Stupid mummah turn as well.
The milk fruit plant now reveals its acidic bowel to received its prey.
Time to slowly dissolve in pain shitheads.
Depends on how strong its acidic bowel is, could be within seconds or hours for them to die.
Now we know where the milkies come from
By normal those acidic are converted via help of photosynthesis and the plant itself filtering and slowly collected into the plant's fruit. Its a slow process like wine. If a ripe fruit isnt drinked, it will slowly rot and dried like prune, then will drop and replaced by a new bud.
I hope those plants slowly dip those brats into the acid, make them feel the burn and pain.
Don't blind the bitch mare she needs to see the suffering of her "pwecious babbehs"
so does this mean the good little alicorn foal has been drinking liquidated fluffies this whole time? I'm kinda hoping it normally goes for insects, of course that would also mean this is a weaker digestive solution and it will take the babbehs much longer to die.
So it's like a self-feeding pitcher plant? Over drinking sets the plant off into feeding mode?
Leafy's spell hiding all this carnage from the out side world affected Acorn too, correct? Or did he pass out from pain?
Acorn was invited. These twats weren't. Acorn is good boi and will not be harmed.
Right. It's less about physical harm and more of will he see any of this. It'd reinforce the rules but also probably traumatize the poor fluff. Especially since he said he wanted them to die in the heat of the moment (I'm guessing he only REALLY meant dummy daddy and mama)
oh no, those plants gonna prepare a soup!
This is quickly becoming one of my favorite fluffy comics of all time.
Acorn passed out the spell covers each so those who are eating the plants wont hear the agony and distress of other of the herd except the smarty who bare witness of the carnage.
By story its the plant first fluffy prey it had, it usually have insect and sunlight.
Basically its the garden first "fluffy feast"