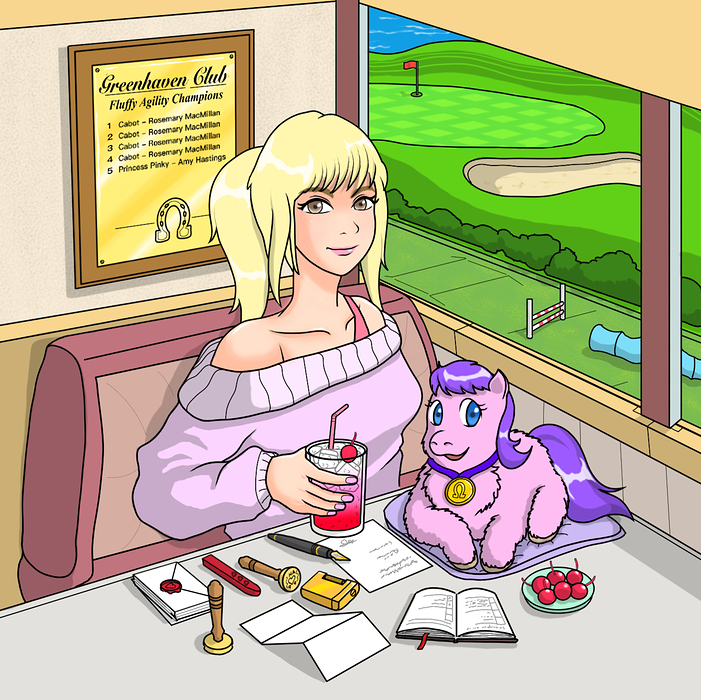 A follow up piece of
Princess Pinky and Amy
, victorious a year after the events of the
Fluffy Agility Championship
.
Very nice art. I like the concept.
You could easily replace the fluffy with a cat and this would be just as great of an image. Your shading has definitely improved I'd say!
Ah that explains it. I was wondering where you would get away with having your fluffy sit on the same table people eat from. But I see this is a club designed around fluffies.
Well drawn as always. Only a little surprised Oculus hasn't gotten here yet to absolutely drown you in adulations.
Nice work.
I love how you draw rooms.
Your style conveys such calm and patience. Wonderful balance of being clear & easy to read, while still including a hypnotic amount of detail.
I think your narrow color palette helps create this calm feeling. The crisp but extremely varied shapes in your line drawings help make the image really interesting to look at.
This is awesome stuff.
Yeah, what he said

This draw's colouring is so heartwarming. I like it.
There is so much story packed into this image. The plaque showingthe dethroned Previous champion. The agility course outside, next to the golf course to give us a feel for the environment. The neat and ordered, but upscale and somewhat archaic trappings; fountain pen, laquer and seals, envelopes, the physical planner.
The cherry in the drink to mimic the cherries on the plate set out for the fluffy that shows how bonded they are.
The birds eye view of the camera that makes both owner and fluffy look smaller and cuter.
The hint of ocean that opens up the landscape outside the window, and makes the world outside look airier and larger, even in the absence of actual sky.
My mind is straight up blown. This is a gift that keeps on giving. Masterful stuff, Carp.
& Princess Pinky is a notably well-bred fluff, & is sitting on some form of cover.
Do wonder what the fluffs make of the horseshoe logo.
I keep coming back to this picture. I want to marry this picture.