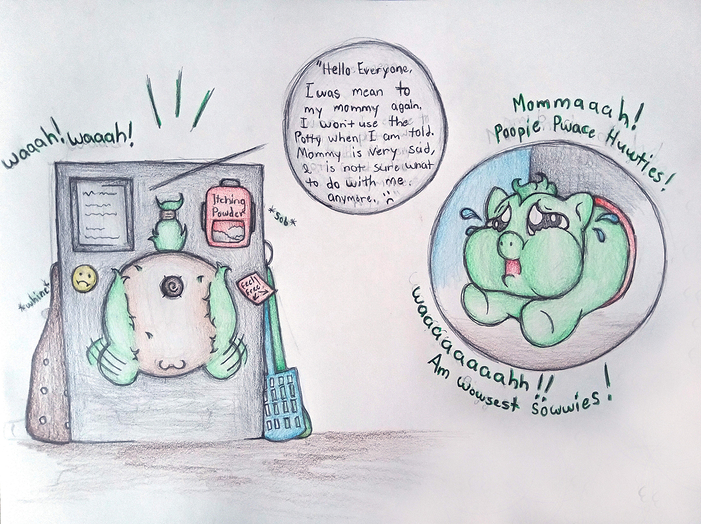 Buddy was an adopted fluffy from a gift shop that his owner Candy encountered during a summer road trip. Despite liking to be alone in her cozy little apartment, Candy felt that maybe it was time for a buddy to keep her company.
She wasn't familiar with how to care for a fluffy, or how some stubborn fluffies could get, but she tried her best with Buddy. She really did.
Often times if he didn't get what he wanted he'd make bad poopies, peepees on mommy's socks, or have little temper tantrums over sketti. Candy wasn't sure if Buddy ever came from a previous home that spoiled him or taught him the bad manners he retained, but she tried everything to get him to follow a better path to being a good fluff. She tried showing him compassion and care without him having to cry, but it did absolutely nothing. It was almost as if the effort wasn't worth it anymore.
After a few months of numerous attempts to get Buddy on the right track, all of it lead to failure. Candy, completely stumped on what to do, only thought of one last resort for him. You could say that she snapped at this point and couldn't take anymore of the temper tantrums. Enough was enough.
She created it herself; a large plank with a hole built for Buddy's bottom, tucked in by leather to keep him from scurrying off from punishment.
"Mommah, wowsest sowwies fowebah ad' eba -! Pwease no spankies ad' huwties on poopie pwace! Pwomise be gud babbeh fowebah!" Buddy whined and pleaded the same old rhetoric Candy always heard from afar as his shaven bottom was on display for all to see at the park. Bystanders saw the weeping fluff and at first felt sympathy for him… that was until they read the framed note above his butt that explained it all.
Candy pretended that she didn't even know who the fluffy was; she wanted no part of it. She was just a bystander that looked away as individuals came up one by one to read the caption, sympathize with the struggling owner, before giving his exposed butt a loud swat.
"WAAAAAH- Mommah!! Has wowsest huwties, poopie pwace huwtie so much, mommah!!"