---
---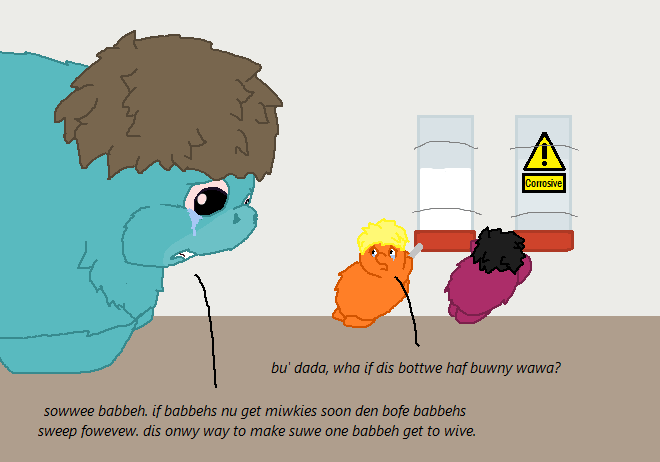 ---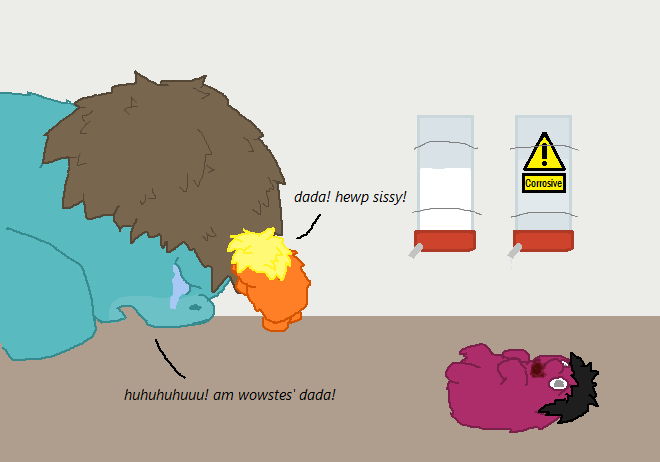 ---
"I told you that hazard symbol wasn't idiot proof. Let's make it shinier and put a little skull and crossbones on it. Prepare the next fluffy for testing!"
One of the best parts of this (from a moronbox standpoint) is that by having one baby try one of the bottles (and thereby finding out which is which), there would only be a 50% chance of having a baby die vs. the 100% chance of a baby dying by having them each drink from a different bottle simultaneously.
It's like a Russian roulette version of the Monty Hall problem.
Lmao







Hell the stallion could try just having a single lick to determine if it's corrosive, instead of having one of his foals just guzzle it down. Worst case scenario he'd have a bit of his tongue burned.
Oh shit, I didn't even think about that!
Fluffies often blame themselves for stuff that isn't actually their fault, but it turns out this little guy really is the "wowstes' dada" after all.
Like, can't they tell? One liquid is white, the other one's transparent.
they don't see liquids. they see 2 fluffy tits. if your brother drinks from one, you must drink from the other, that's how mummah miwkies work
Total nightmare scenario… y'know, if you're a stupid and helpless fluffball, I mean…
i agreed with that fluffy, he's the worst daddy.
A smarter foal would QUIT DRINKING as soon it suffered burns from acid, rather than drink it all and die.
Or maybe one of them could be smart enough to know that milk is white and acid isn't.
Or daddeh could not be a worthless piece of shit and could test the bottles himself instead of his foals.
But fluffies.
They chose to drink the second one first because it has cool logo on it lmao.
I would definitely tell this to the fluffy after it has lost one of the foals, just to rub it in.

I remember this always liked it.
I remember this one!
I still love it. It's a wonderfully devilish idea, and it's especially funny for all of the reasons the commenters have outlined. There are several ways to outthink this trap, but the fluffies can't even come up with one.
Self-inflicted fluffy suffering is my favorite kind.
Well, at least he is not dumb