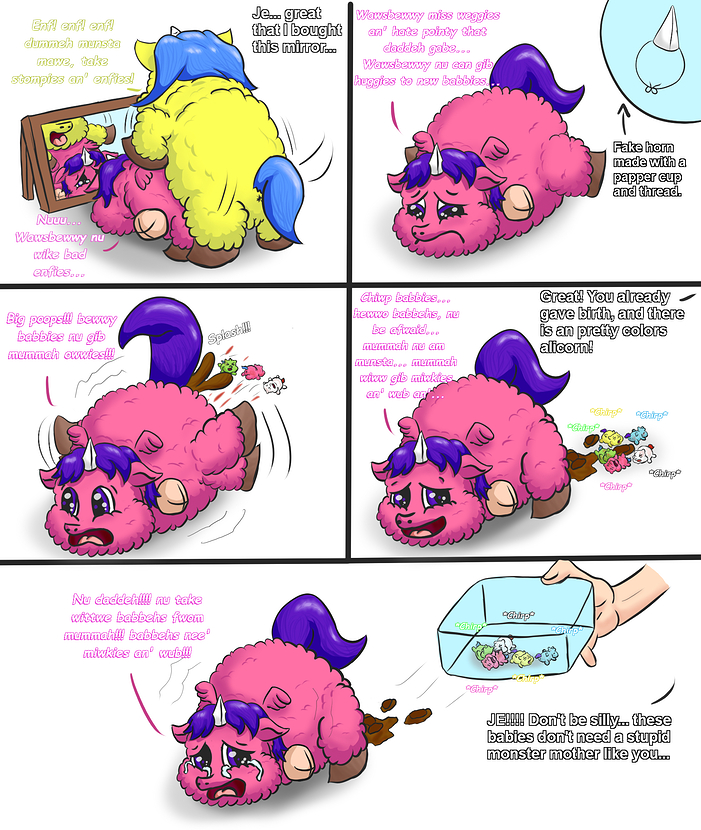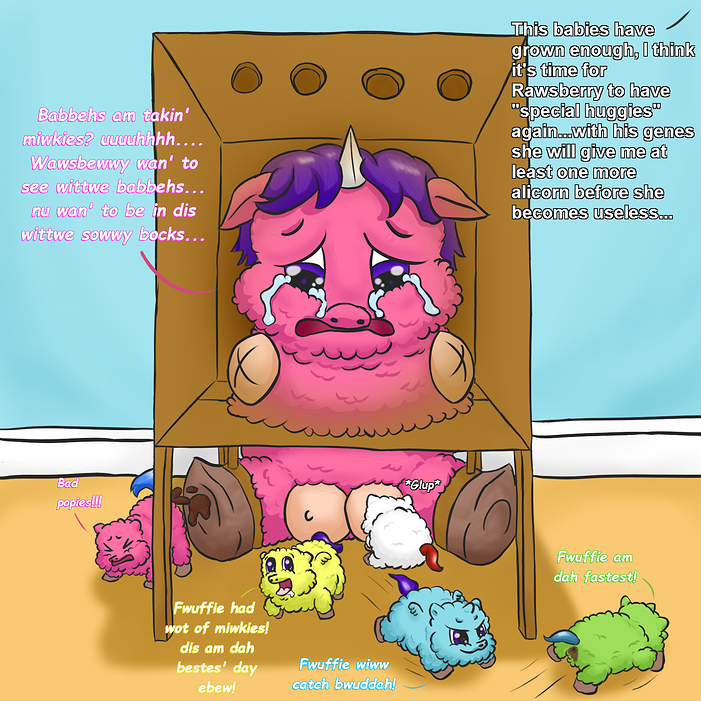 Hello, this is the continuation of other of my drawings,
First part here
maybe if she learns to be a 'good munstah' she would be given little bits of privilege's back. maybe she pan have a little window to see the babys if she's good enough.
plus babys being around an amputee will help teach them to be more kind to other fluffys, and help you weed out smarties and curb that behaver early
That is, if she can act good seeing an alicorn foal on tv. or act good around an adult alicorn.
heck if she's good with em enough she may breed willingly with alicorn studs
Why is she crying about not seeing the kids? She'll only start crying when she sees the "munstahs" among them.
The fake horn is a nice touch, if only she was self aware enough to recognise that she was the monster all along
At least she got a rather fitting punishment.
She killed her alicorn foals, the guy got too easy on her, she deserve much worse.
They shoudnt of been monsters, you fuck around you find out.

Need to teach that pink baby that those aren't 'bad poopies'
Lol why the bad poopies? Time to shit on that baby to each her a lesson in empathy. The simple one being "the way you treated them was no good."
Su wong as dese babbehs stay awive, Buggies suppowt dis. Gib bad mummah wowstest heawt-huwties!
Yeah should probably remove the skin from her back and throw her into and anthill
Well thats a good way to keep her killing those money making foals

I really likes the fake horn punishment, hope the alicorn foal grows big and strong!
Yes, a proper Enfie-Pal has no front leggies. So many these days just repurpose a litterpal & have done with it.
The bad enfie mirror is a lovely romantic touch

That bad poopies baby needs to see what it's mother would do if she could see him. No one's going to want that smarty in training anyways.
The bitch mare is still valuable, she can produce Alicorns.
Ohhh, she's that bitch. I need to check previous panels.
What…MORON doesn't see the value in Alicorns!?
This bitch gets 100% what she fucking deserves