The thing I like best about this is that the mummah seems to know somehow that it's the babb1eh that blinded her.
Well she wasnt blind before she looked at the foal so she put 2 and 2 together
Is this like one of those experiments to prevent fluffies having more foals?
If that foal survived, so he is a walkin weapon against fluffy.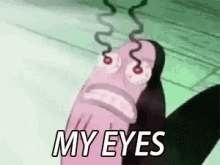 Ahh late 90's early 00's neon 'toxic shite everywhere
Yet another reason to love brown
Id adopt this babbeh ill name them Basil short for basilisk cuz all fluffs that look at them will be doomed. I think good against fluff home invaders
So, essentially fluffies in bright neon colors? I can dig it. Would especially be handy in some instances.