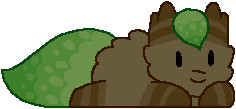 Perhaps this one is redeemed by the patterns.
the day i see a not brown and dark brown/brown and green poopie will be legendary
Looks a bit like a Pokemon. Very cute, though, and the pattern is nice (makes me think of tree rings).
Lovely work. The style really pops with the lining and patterns.
Lemongrass. The baby a little cute. If they are of good personality, namesies.
Cute design