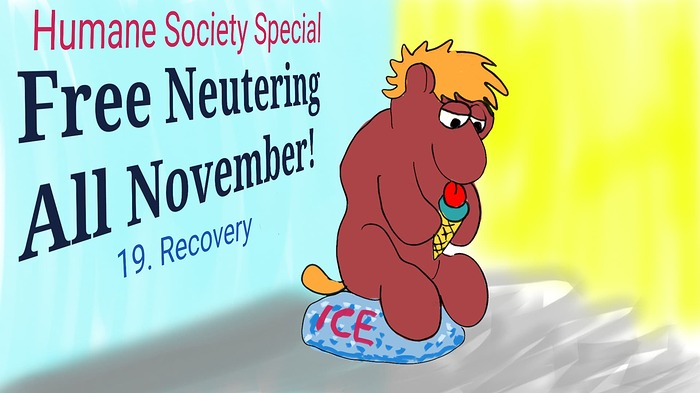 Also for @Foxhoarder. A sequel, if you will.
You would accept ice cream in place of your testicles, fluffy?
Checks tags
Fair enough
More a consolation than anything.
"Sorry we had to take your balls. Ice cream?"
"Huu huu, fwuffy haf nu choicies dan to takies yum-yums huuu huuu nummy yum-yum huuu"
"Fwuffy nu wike cowd bottom"
That really would cool the pain

Aaaaw… That was a nice little read


Now I'm wondering about the guys I know who had vasectomies… Did they get ice cream?
Reminds me of that one Nintendo Switch picture: "Doctah took fwuffy nonoes, buh den doctah giv ice cweam! Yay!"
The whole idea of neutering pets that can talk has always struck me as one of more fascinating elements of the fluffy concept. How would our relationship with dogs be changed if they could complain about it?
"Daddy got neutered too, Bucky!"
"Daddeh stiww hab wumps tho."
"But I can't make babies!"
"Stiww. Hab. Wumps."
"Frank, pull up your pants."
"Daddeh made choice. How daddeh feew if fwuffy took daddeh's speciaw wumps?"
Daddeh's wumps ugwy. Daddeh jeawous ob Bucky's pwetteh wumps.
Keep talking slick and you'll be without a dick,
Asshole
Awwww, ice cream in exchange for his balls, love it
Well, not in exchange. More "you just had a rough time there, kid. Have an ice cream."
I forgot to speckle it, but its mint chocolate chip.
Pretty sure he is only eating it cause no fluffy would say no to free food.
How many people would?

And as someone who can be prone to emotional eating? I don't blame the little guy.