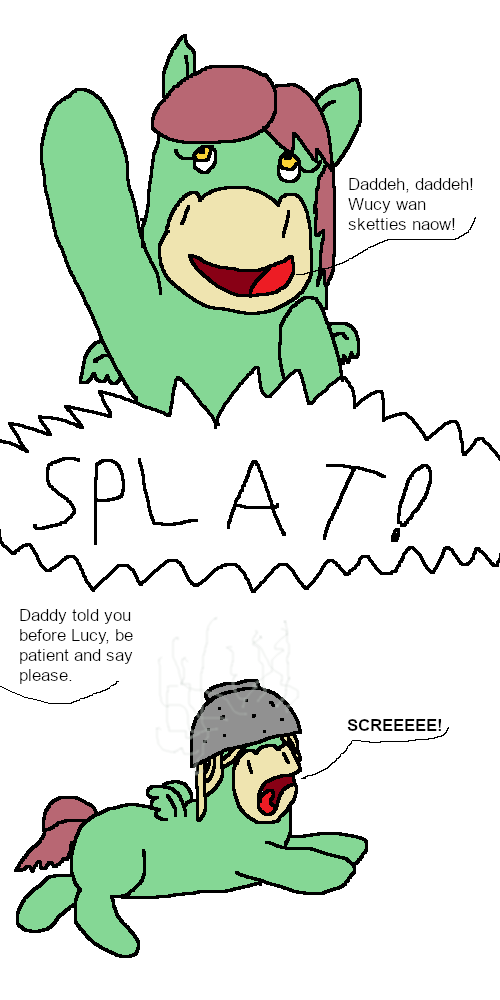 Ungrateful little bastard. She got what she asked for. She got the skettis right then and there.

And a lesson was learned that wouldn't be forgotten anytime soon
Lmao


…now pour the sauce on its head
Darn, I thought the burning would involve fire.
Sorry-stick a fluffy and they're not naughty for a day. Burn them alive and they're never naughty again.
That's because they would be dead.
You can't argue with the results!
Ugh have these critter in their safe room when cookin skettis to avoid accident like this.

They go frikkin hyper and would trip you as you walk.
That's … the joke.
It's a paraphrase of an old, old joke that goes something like this:
Build a man a fire, he'll be warm for a night.
Set a man on fire, he'll be warm the rest of his life.
On a different note, near boiling water to the face would be agonizing, let along the steaming hot spaghetti. Almost more brutal than fire, actually.
I saw something similar to this. An impatient fluffy cause its owner to drop a scolding pot on its ass XD It survived and was recovering, but was traumatized by the event, now if they say 'sketti' to it, it cries XD
I saw that strip too


I like that it was an accident, that the owner didn't intend to hurt him.
And now he thinks sketties are hurty nummies.

well, if she listen to her owner it didn't happend.