This… uh…
No comments on that one
I remember this one from the subreddit, a work of sublime disgust.
Out of the fluffy drawings I made so far, this one is my favourite. I'm still proud of having come up with something so disgusting.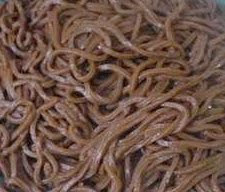 I once read a textpost with a similar premise, but your execution is top notch
Ahh, yes! Some appallingly gross stupidity! Like a breath of fresh, cool air…
Bwahaha talk about A shit eating grin!!
Ohh… I was hoping a smarty dropped the "nu smeww pwetty sketti" and this was another example of Day Care hazing.
Still a wonderful comic! I just would love to see more schoolyard bullying with your fluffies. Freakin' Berry's comic was sooo satisfying!

hmm. can i make tape out of tapeworms???
This genuinely made me laugh - it's such a gross scenario I could only watch it completely mesmerized even if I was supposed to stop them.

Oh god… I'm getting flashbacks from one of my rescued doggos time ago…
Oh no, I hope the dog didn't actually eat the worms/poo.
One of my family's dogs had worms before, but thankfully she didn't eat them.
Hope we can see a part 2 where the fluffies that had the "Surprise Sketties" suffer the consequences.
Maybe one of their owners or the carers finds this and gives them the stick (after taking a minute to puke/mentally process).
Or we see the medical complications of them doing this multiple times.