Alton Brown does say the only unitasker in a kitchen should be a fire extinguisher
Cassandra: wow…I dunno what to say there but im honored hugs @Chikahiro and @BFM101

Just remember to leave him dewicious nummies for his wittwe fwend XD
Thats a good and funny list cwimson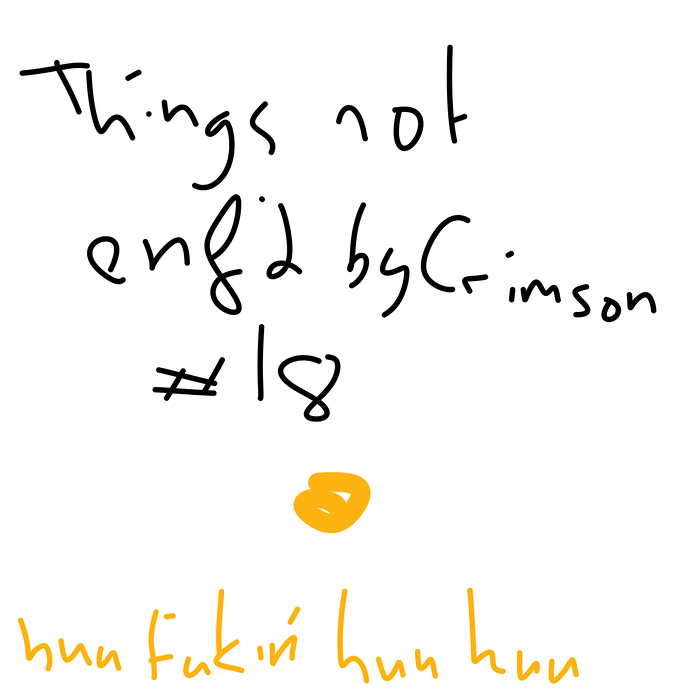 Random idea I had to draw. The orange dot is Habenero, Napoleon's sister. She's… Er… The name is appropriate.
She wittew fukin fing, Cwimson kiwi hew wiv dis dik. Ow maybe she cwazy enuff tu kiss Cwimson.
Hey giwl, you wan sum fuk?
If she can devour a whole fluffy them I'm sure she could lovingly devour Crimson's… Hey, what's that shiny thing over there that is totally not this conversation.
"Finawwy! Habenewo wan' WEAW MEAT, not sum wittwe babbeh cawk!"
Yeah, she's actually the tiniest hell-gremlin. Usual (off-screen cartoon) logic applies. She'll take care of herself, that's for sure. I'm going to have fun fleshing her out.
I don't think she's at any actual risk from Crimson due to her nature. Likewise, I don't think Crimson is at any risk from her. He might wake up to surprise enfies now and then. Perhaps she'll bring him something to eat as a sign of affection (a small family of pre-shredded fluffies). Who knows?

I can see Crimson with a glazed look in his eyes saying, "Cwimson do not knu what happened, but Cwimson wike it

!"
"Crimson no am enfie toy! Wake Cwimson up fiwst! Gah!"
"No cawe. Habanewo hab gud feews."
Josef walks into a fairly big, and unexpected mess of bodily fluids.
"What the fuck…?"
"Oh, dewe been fuckin'…"
I thought that was a reference to the reasonable Hugboxer series!
Given how the Red Smarty got his balls filled with pus… I'm not surprised… Although it's a surprise that Joseph didn't experiment on such thing
Josef is too proud to rest on the laurels of other peoples ideas.
Also that's just gross