That pink bitch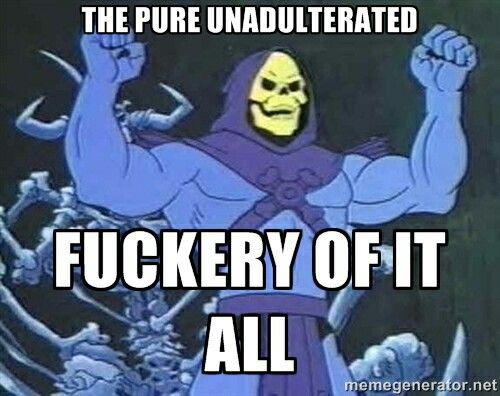 Let's hope to god there's a bodyguard
Hmmm…
That foal looks a lil bit odd…
The pink fluffy looks pissed, she is mad the runt is alive and on top of that, it looks well-fed and has a ball and blocks.
Hmmm You notice it hmmm

Yup her ego hit sky high.
Oh boy! I called the illusion! So next page is the good smarty going all out and killing or maiming bitchy and her idiot herd, for what looks like killing night start.
Hmmm. Indeed the foal and the blockies DO look strange.
Spoiler

I'd wager it's a projection/hologram to avoid putting the foal in danger
Illusion + landmine = endless fun.
Ok now you got me imagining the mare charging at the foal, stomping it down and hearing 'click'.
Inb4 her having a split second to realize she dun goof'd and going boom.
Well the idiotic mare is not happy I guess.
Even the smarty of the idiot group is confused now.
You clever fucker, I just noticed it thanks to your comment, I'd completely miss it
I honestly noticed the lines only because I thought "weird, the foal's colors look off compared to the other fluffies".
Had to zoom to see them.
I didn't even notice the off-colors. I'm as bad as the fluffies lmao
I already did illusion + grenade, so landmines seemed like the logical next step.
Dummeh gray fluffy with the important question- 'Where's the SKETTIES???'
Yeah, I think Blue is starting to question his choices.
Lovely climax building. Love, love, love your generous patience.