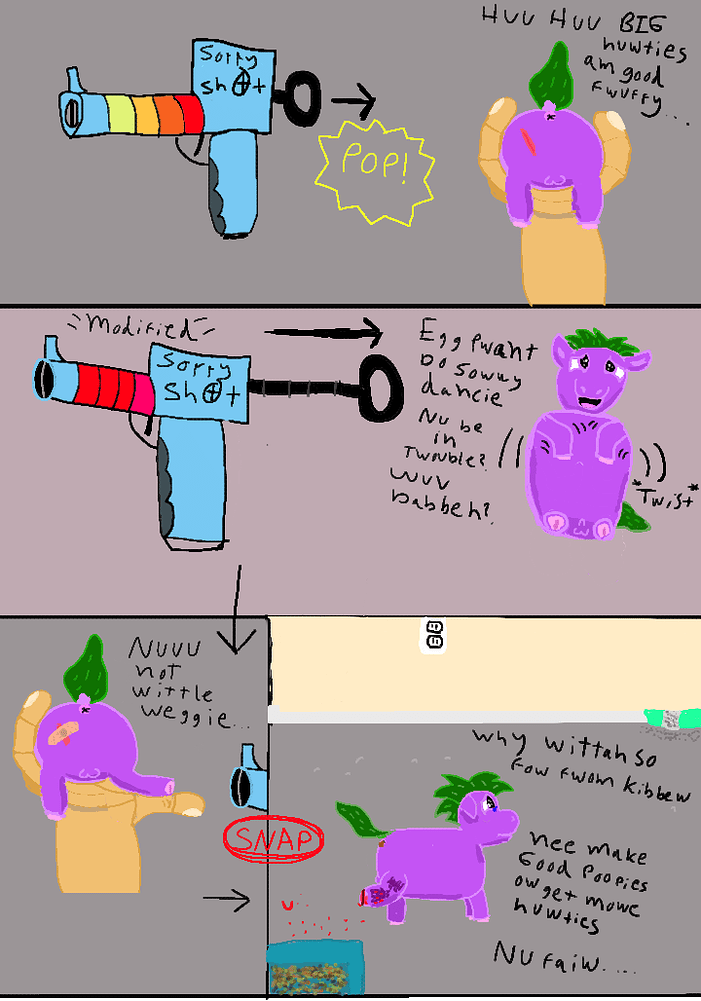 Following the almost overnight success of Hasbio's bio-toy craze, many companies were quick to shovel out their own brand of knockoff fluffy care products. One such short lived product was the sorry-shot. Intended to be a stand in for the officially recommended sorry stick, the sorry shot utilized a spring powered soft plastic "stinger" that could be readied by hand and deliver a "fair" and comparable dose of discipline to an unruly fluffy's behind.
While issues arising from teaching children to use a gun-based tool to deliver punishment was eventually the downfall of the product, it found a following in both abuser homes as well as households that sought a much stricter discipline from their pastel pals. By replacing the inner springs with much higher k-value aftermarket springs for mere pennies and removing the soft plastic casing that holds the flexible metal rod an abuser can increase the joules delivered by the sorry-shot by a factor of 12.
What was once a tool for efficient spankings is transformed into a device that can split skin, contuse muscle, and fracture bones in a single pull of a trigger.
[Looking to flesh out some headcanon a bit, got a few ideas I need to get drawn out]